Transportation Bylaws
Bylaws are rules or regulations made by Council to make the district a safe and healthy place to live. Bylaws cover health, safety and environmental issues as well as use of our waterways and public spaces.
Bylaws are broadly made to cover one or more of the following purposes:
Protecting the public from nuisance
Protecting, promoting, and maintaining public health and safety
Minimising the potential for offensive behaviour in public places
Not complying with a bylaw can result in fines, seizure of property and remedial action. Bylaws can be enforced by warranted Council staff or contractors and by some external agencies like the New Zealand Police.
Click here to read the Transportation and Parking Bylaw
Irrigation water on roads
In the summer months many farmers in the district use spray irrigators to water their grass and crops especially during the main growing period prior to harvest.
This is a common practice however in some cases the incorrect positioning of irrigators can cause water to be sprayed onto the adjacent road. This not only creates a road hazard for motorists and other road users, it can cause damage to the roads, especially gravel ones.
The Council asks that all rural property owners using spray irrigation systems adjacent to roads ensure their irrigators are positioned carefully so water is only applied to the paddock and not the road.
If you are aware of water being sprayed onto our local roads, please contact Council.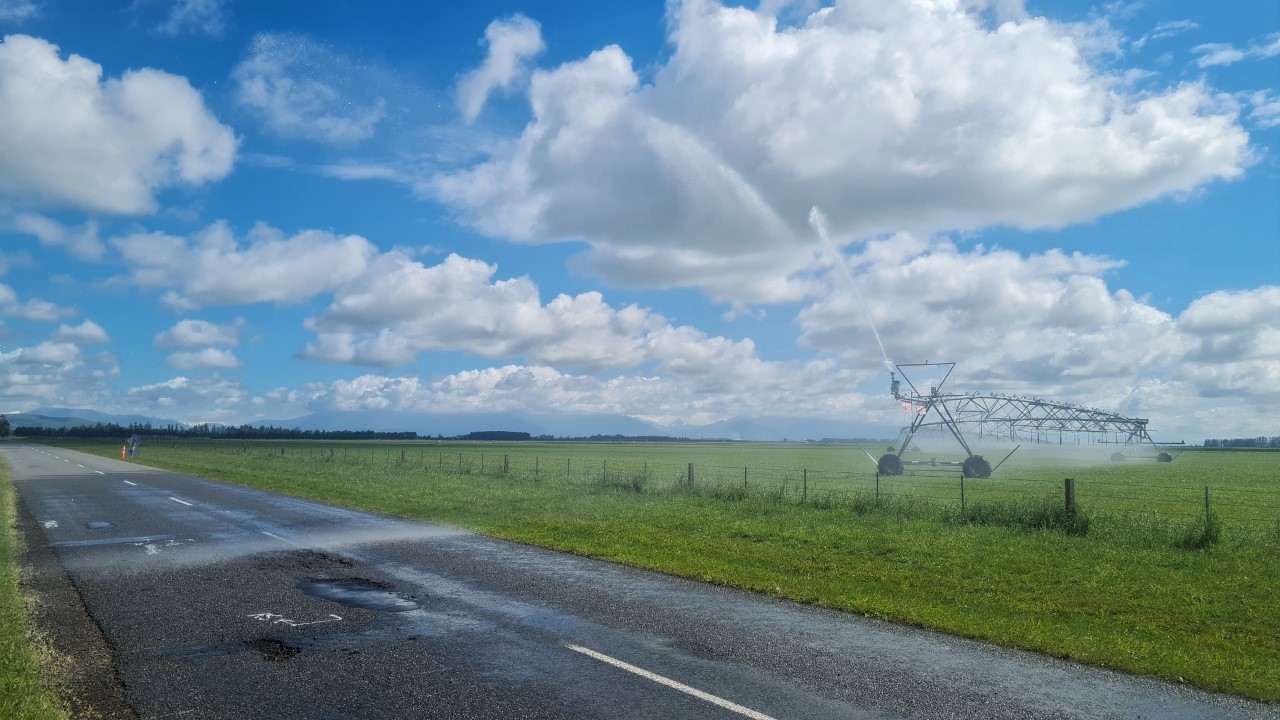 Driving stock on council roads
Between May and September of each year, cows are walked from dairy farms to winter grazing blocks and vice versa and all road users are urged to take care during this period.
Council has a bylaw for stock driving, which allows stock to be driven on local roads after sunrise and before sunset without written permission provided:
There are no more than 600 cattle or 3000 sheep in one move and one drover per 300 cattle or 1500 sheep.
Animals are kept moving
Suitable signs must be used at a safe stopping distance to warn other road users.
NZTA are the controlling authority for state highways. The NZTA recommend the use of the Code of Practice for Temporary Traffic Management. This code requires the preparation of a TMP (Traffic Management Plan) when moving mobs of cattle across an open speed state highway.
Speed limits
Speed limits on Ashburton district roads are set using all applicable legislation including "Land Transport Rule: Setting of Speed Limits 2017.
The full schedule of speed limits is listed in the Councils Transportation and Parking Bylaw.
There is also an interactive map of all the current speed limits on all roads within the Ashburton District Council network which can be accessed by clicking here.
Click here to open the interactive Speed Limits Map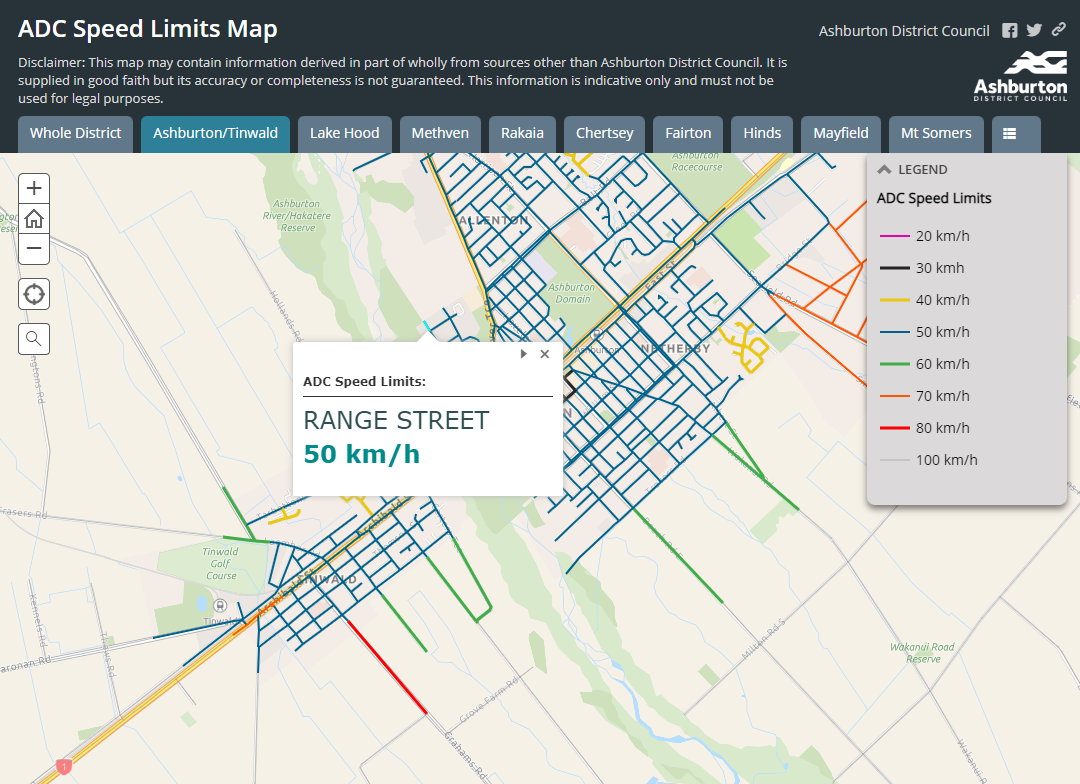 Click here to download PDF maps of speed limits in urban areas