Unmanned aircraft
Flying unmanned aircraft over Council land
What are the new rules concerning unmanned aircraft?
The Civil Aviation Authority (CAA) regulates civil aviation in New Zealand, and sets the rules around the use of Remotely Piloted Aircraft Systems. This includes Unmanned Aerial Vehicles (UAV), Unmanned Aerial Systems (UAS), model aircraft and drones – we'll refer to them as 'unmanned aircraft'.
All unmanned aircraft operations, regardless of size, weight, or performance of the aircraft are required to operate in compliance with the Civil Aviation Rules. New rules which took effect on 1 August 2015 require that unmanned aircraft operators gain consent from the landowner of the area they intend to fly over.
The changes to the Civil Aviation Rules improve aviation safety for operators, other airspace users, and people and property.
Visit the Civil Aviation Authority website for more information
Can I fly my unmanned aircraft (drone) over Council land?
Council's approach is a blanket approval of the use of unmanned aircraft in Council parks, reserves and open spaces. This means people can still fly their unmanned aircraft in the district's parks without needing to apply for permission each time.
There are exceptions and exclusions to this blanket approval which are set out below.
Is any Council property excluded from this blanket permission?
Council does not allow unmanned aircraft to be flown over Council cemeteries, camping grounds, playgrounds, or paddling pools.
Sports fields and bookable areas of the Ashburton Domain (rose garden and BBQ area) are also excluded if they are in use.
Are there any conditions for flying over Council land?
Yes. Council requests that users of unmanned aircraft abide by the following conditions:
Be courteous towards other park users who often visit the park for quiet enjoyment.
Comply with the Office of the Privacy Commissioner guidance on preserving peoples' personal privacy by not flying over other people using the park or over adjoining private property without their consent.
Seek permission of any people within the public area where you are operating your unmanned aircraft if you have a camera on board and wish to capture images that will include them.
Do not operate over a sports field if it is in use by others.
Do not operate when there is booked use of a public area (eg: Ashburton Domain Rose Garden for a wedding, or Ashburton Domain picnic/BBQ area); EXCEPT where the booking is the user's own.
Do not operate within 50 meters of any playground or paddling pool.
Do not operate in Council cemeteries.
Do not operate in camp ground areas.
Cease operation if requested by Council staff.
Comply with Civil Aviation Authority Rules at all times.
What about other areas – where else can I fly my unmanned aircraft?
You can fly unmanned aircraft on your own private property. If you wish to fly over any other privately-owned or crown-owned land, you will need to seek permission from the affected property owner.
What about flying my kite?
As long as your kite is moored (i.e. you have it on a string) and kept under 120m, you can fly it where you like.
​See below for Drone restricted flight zone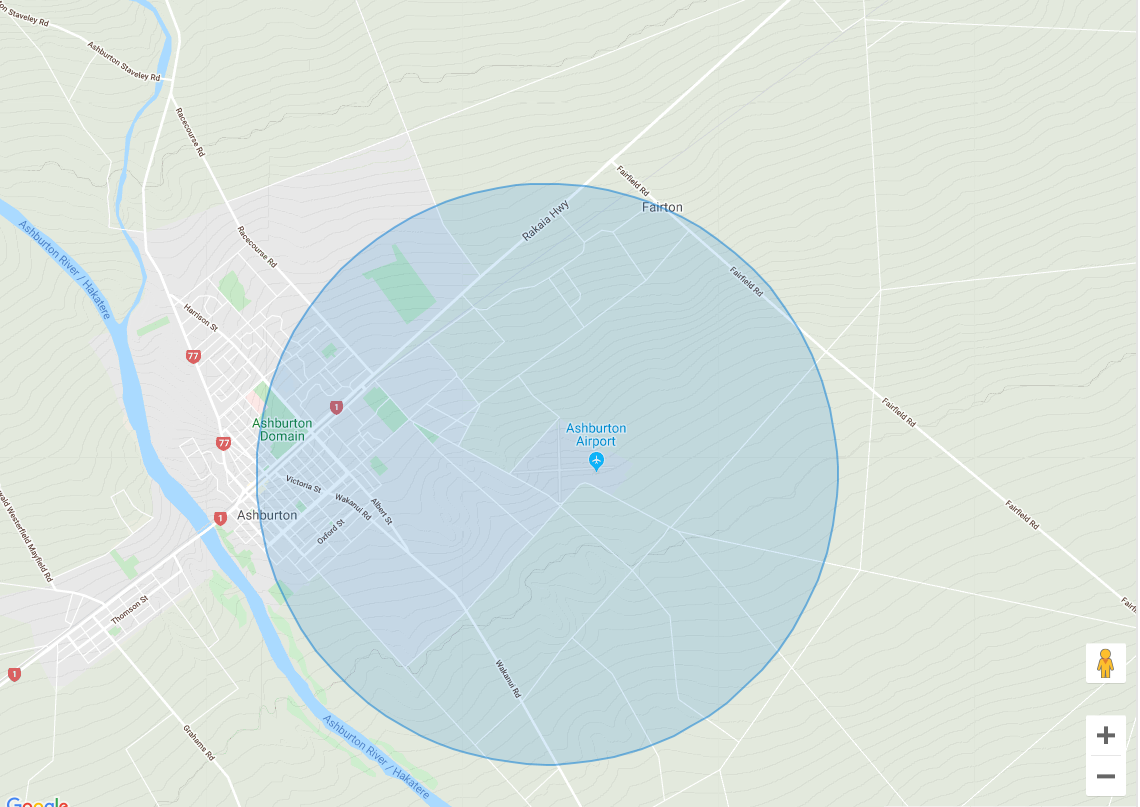 More information
For more information visit the Airshare and Civil Aviation Authority websites.