Unmanned aircraft
Flying unmanned aircraft (drones) over Council land
The Civil Aviation Authority (CAA) regulates civil aviation in New Zealand, and sets the rules around the use of Remotely Piloted Aircraft Systems. This includes Unmanned Aerial Vehicles (UAV), Unmanned Aerial Systems (UAS), model aircraft and drones – we'll refer to them as 'unmanned aircraft'.
All unmanned aircraft operations, regardless of size, weight, or performance of the aircraft are required to operate in compliance with the Civil Aviation Rules.
Civil Aviation Authority Rules Part 101 state that a drone or unmanned aircraft must:
not exceed 25kg
only be flown during the day (except for shielded operations)
fly below 120m above ground level
give way to all crewed aircraft and land if another aircraft approaches
be visible (by eye) at all times by the person controlling the aircraft
stay at least 4kms away from all aerodromes (including helipads at hospitals), unless permission has been granted and conditions are met
not fly over people or property without consent
not fly in controlled airspace or special use airspace without permission or clearance.
If these requirements cannot be met then pilots may apply for a Part 102 Certification. All flights should be recorded on Airshare.
For more general information, please visit the Aviation Security Service for further information on the use of Drones.
You must not fly an unmanned aircraft within 4km of an aerodrome unless you have permission from the aerodrome operator. See this restricted flight zone below.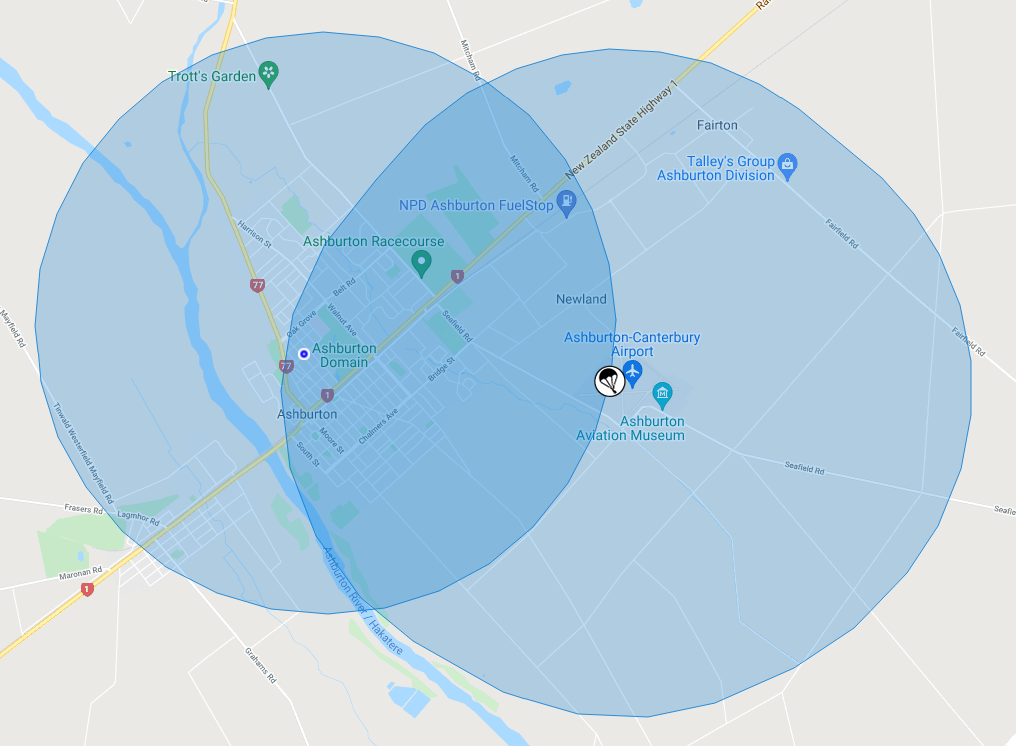 There are exceptions and exclusions to this blanket approval which are set out below:
Council does not allow unmanned aircraft to be operated in Council cemeteries, camping grounds, or within 50m of playgrounds or paddling pools. Sports fields and bookable areas of the Ashburton Domain (rose garden and BBQ area) are also excluded if they are in use.
If you are flying an unmanned aircraft in one of Council's 'open spaces' and plan to capture images, you must seek permission of other users at the time of the operation. We also ask that you are courteous towards other users who visit the open space for quiet enjoyment.
There is also a no-fly zone located in the Ashburton Domain sports field area (see map below). It is important that this airspace is kept clear (unless you have gained permission) for the use of the hospital helipad.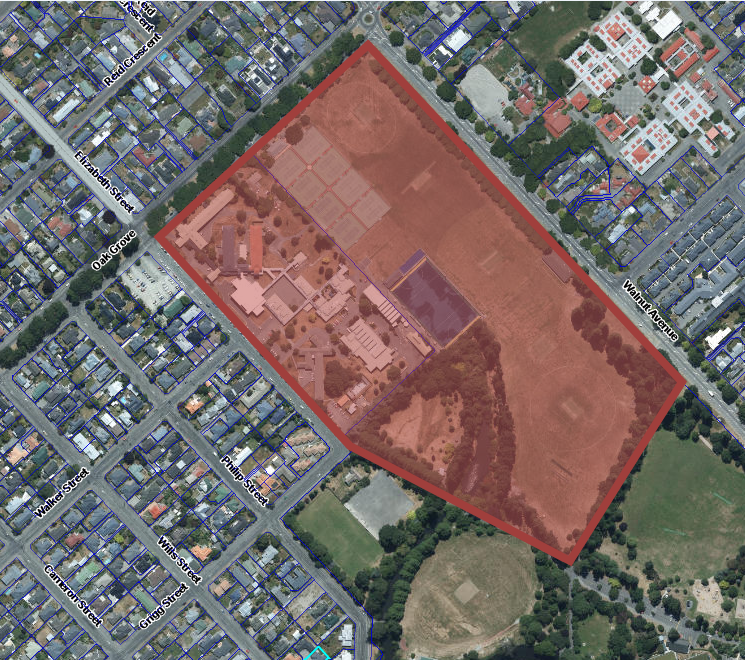 Please read section 15 of the Open Spaces Bylaw to ensure you comply with requirements.
You can fly unmanned aircraft on your own private property. If you wish to fly over any other privately-owned or crown-owned land, you will need to seek permission from the affected property owner.
As long as your kite is moored (i.e. you have it on a string) and kept under 120m, you can fly it where you like.