Ashburton CBD Revitalisation Project
​​​​​​​​​​​​​​​​​​The Ashburton Central Business District (CBD) is experiencing redevelopment and Council is supporting investment and encourage revitalisation in this area through a significant regeneration of the streets, pavements, furniture and landscaping in the CBD. ​
Stay up-to-date with the project
Keep updated ​​​​​on the Ashburton CBD Streetscape Revitalisation Project by signing up to our free mailing list ashburtondc.govt.nz/stayinformed​​ or receive text/SMS alerts straight to your mobile for free by texting '#CBD' to 4196.
Key changes included in the revitalisation are:​
The creation of 30km/h speed limit zone in the area bound by East, Moore, Cass and Havelock Streets
A pedestrian and cycle-friendly environment
New lighting and street furniture (for example park benches and seating areas)
Landscaping, such as more trees, new plantings and rain gardens that provide environmental benefits
Installation of parking sensors throughout this part of the CBD and a provision of free, time-restricted parking.
​P60 parking for East, Burnett and Tancred Streets, P120 for Havelock, Cass and Moore Streets, and change the P120 in the West Street car park to P180.
Council's contractors, Tru-Line Civil are working hard to keep the project on track and as of early August 2021, the project is 80% complete and remains on track for completion in late November 2021.
The new streetscape is really starting take shape and business owners and CBD visitors are able to appreciate the changes that are happening.
Council officers are often asked questions on various aspects of the project and a sheet of FAQ's has been developed.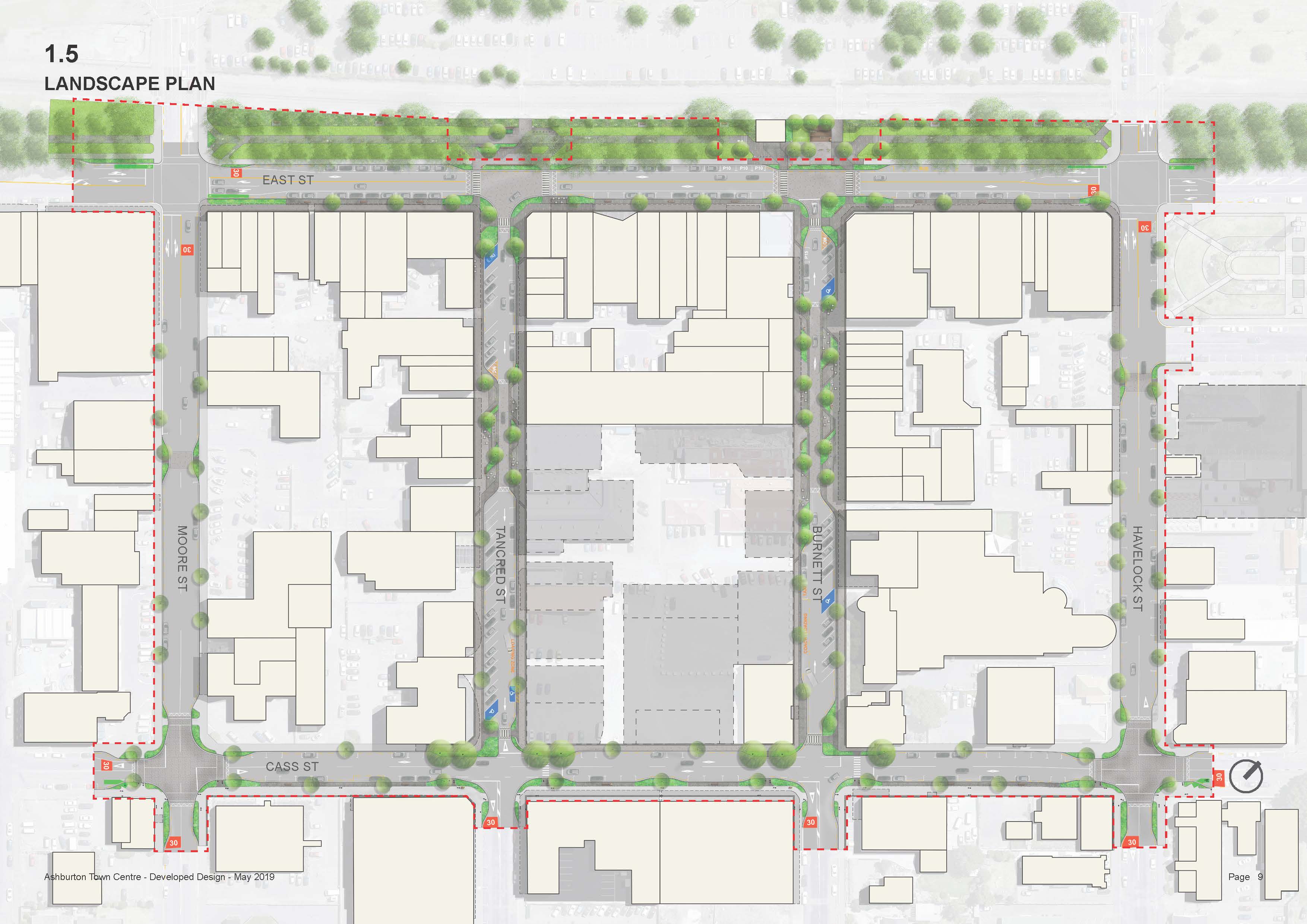 ​Image: Ashburton CBD Developed Designs
The upgrades will be in line with the concept designs developed with the assistance of Abley Transportation Consultants that were consulted on with the community in 2018. Design schemes developed by AECOM in association with Jasmax were completed in September 2019.
The plans for the CBD are exciting and include more trees, and new furniture, sustainability and environmental measures such as low energy LED lighting and rain gardens to filter stormwater. Some examples of what you can expect are in the pictures below.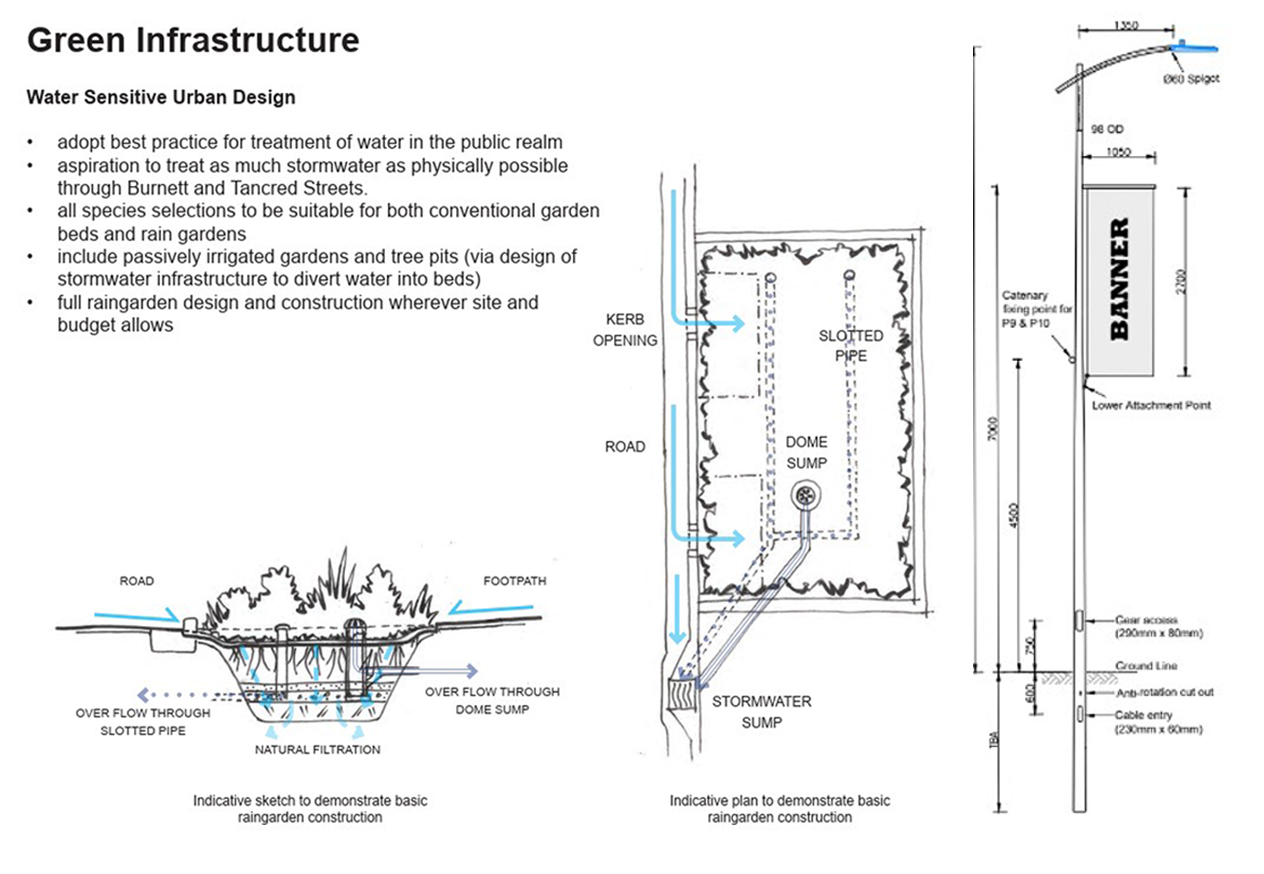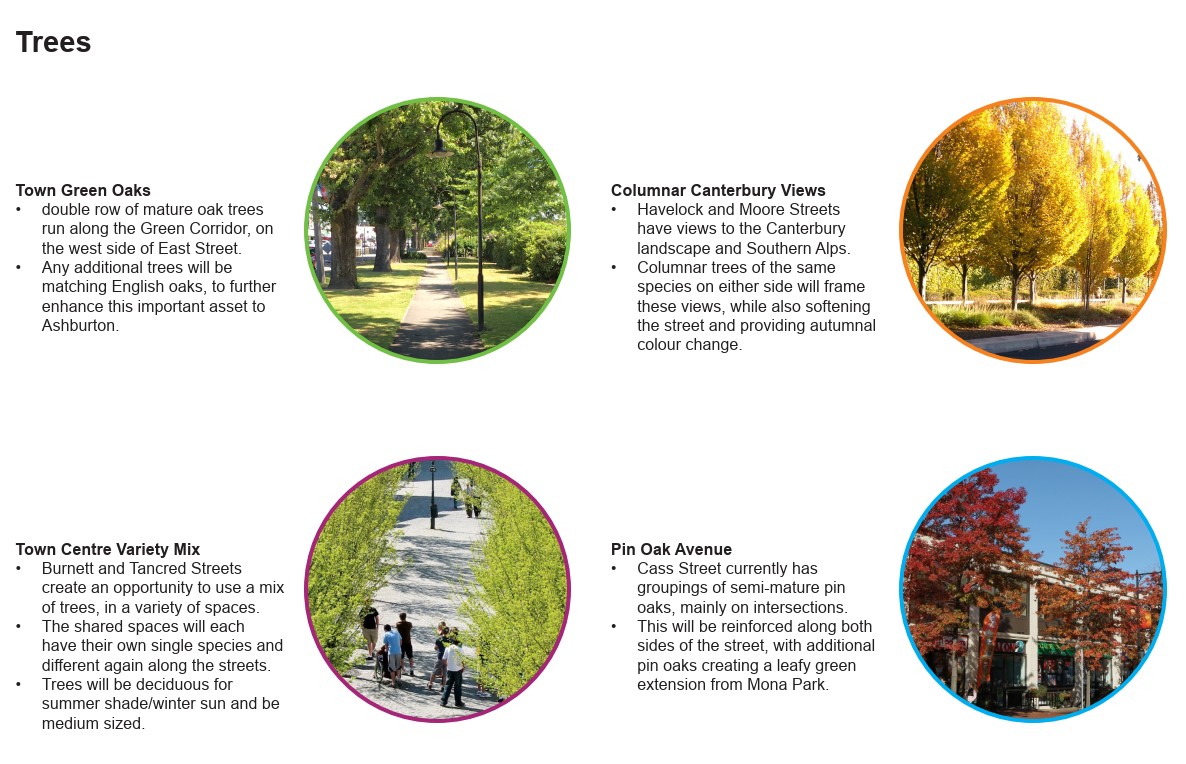 Council adopted the
Town Centre Concept Plan 2009
which set a broad framework for improvements in the Ashburton CBD. The plan acknowledged that these improvements would be gradual and that flexibility was important to accommodate a range of new initiatives and developments. This plan has since fed into other plans and projects, including the District Plan and the current redevelopment.
We now have a Town Centre Subcommittee who have been leading the Streetscape Revitalisation project on behalf of Council. The role of this subcommittee is to oversee revitalisation initiatives, transportation and cycleway initiatives, festive lighting and parking in the CBD.
Contract awarded for Ashburton town centre revitalisation​ - Wednesday 8 January, 2020
Road markings signal start of CBD revitalisation work​​ - Monday 21 October, 2019
Ashburton CBD ​revitalisation becoming reality​ - Wednesday 17 July, 2019​
Council to reconsider removal of East Street water feature​ - Friday 5 July, 2019
Plans for Ashburton CBD revitalisation ​​to be discussed at Council meeting​ ​​​​- Monday 24 June, 2019​​​​
Work progressing on ​​town centre revitalisation​​​ - ​​Friday 2 March, 2019
Council seeking feedback on CBD revitalisation project​​​​ - ​Tuesday 22 May, 2018
Council to seek feedback on town revitalisation​ - ​Thursday 5 April, 2018​​​
Still need more info?
The Canterbury earthquakes have resulted in significant changes to the face of the town centre, as buildings have required strengthening work or demolition. This redevelopment has given us an opportunity to support investment and encourage the revitalisation of the CBD.
In 2017, the 'Our Place' campaign we ran helped to encourage a conversation between Council and the community about the district's future. People gave us really valuable feedback about their priorities, and the fourth most important priority to them was the development of the town centre.​