Draft Interim Speed Management Plan
The way speed management is being done throughout New Zealand is changing. This means that decisions on speed management will be able to be made at a more localised level in the future.
Effective speed management is more than just setting speed limits, it is also about infrastructure and road design. This draft interim plan will help us transition from the way we have set speed limits in the past, to a new, more flexible approach that better acknowledges the local conditions and the surrounding environment.
Rather than looking at speed limit changes on a street-by-street basis, this interim speed management plan establishes three important principles for speed management in our district for the next two years.
We encourage you to read more about these principles, view the maps and let us know your thoughts before submissions close at 5pm, Sunday 16 October.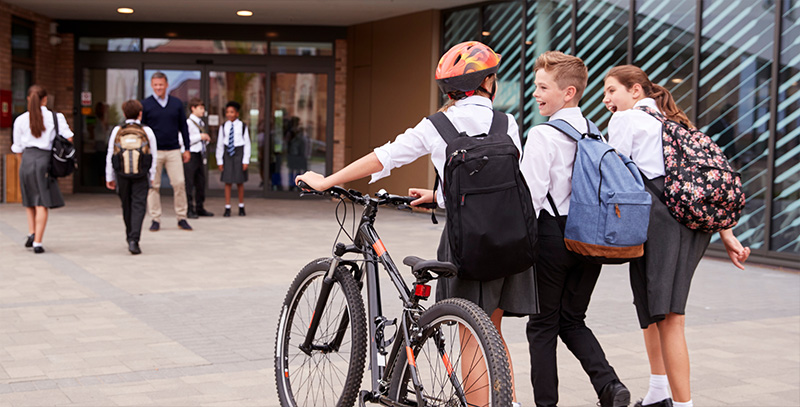 This first principle is to reduce the speed limits around schools. We propose to do this by introducing a 30km/h permanent speed limit for most schools in the district.
Some rural schools are proposed to have a 60km/h variable speed limit due to high average vehicle speeds next to the school. A variable speed limit is when the speed limit can change due to the road and driving conditions. In this instance, the lower speed limit will be in play when kids are at school.
A lower speed limit decreases the chance of crashes occurring and reduces the injury severity if they do happen. This will reduce the risk for the students traveling to and from school.
Research shows that speed limits in school zones are most effective between 300-500m long. Drivers tend to slow down if the zone is between these lengths. The maps we have prepared below show what this would look like for all schools in the district, however, the interim plan will enable the actual zones to be adjusted by Council if required.
Methven School, Mt Hutt College and Our Lady of the Snows Schools share the majority of the frontage with the State Highway, therefore the speed limit outside these schools will change when Waka Kotahi produces their speed management plan.
The plan also includes a principle to manage the speed on roads in the urban fringes. This is to cater for urban development in the district and to reduce the approach speed of vehicles entering the townships.
This would allow speed reductions on urban fringe roads to either 50km/h, 60km/h or 80km/h depending on the level of development. Our Council will determine the speed limit as required to achieve a safe and appropriate speed limit using local knowledge and Waka Kotahi's Speed Management Guide and Mega Maps.
The area defined under the urban fringe category are roads within a 3km radius from a township's boundary and can be seen on the maps linked at the bottom of the page.
The plan includes the principle of reducing speed in some developed areas within the township. This reduces the risk to active users (like walkers, cyclists and scooter users) on the road and promotes a safer environment.
The roads in these areas could have a speed reduction applied of 40km/h or less depending on the level of use and development. Our Council will determine the speed limit required for the active users' safety.
The developed areas will include, but are not limited to, central business districts, enclosed subdivisions or other locations with a high amount of active users. The community will be informed of any changes to the speed limits under the interim speed management plan.
Have Your Say
We want to hear your feedback on our proposed changes.
Speed Management Maps
These maps show the proposed speed management zones for schools and urban fringes. You can also use the search function below to find a specific school. To learn more about our proposal for these areas, please view the Consultation Document.
Project Timeline
Community consultation

12 September - 16 October 2022

We'll seek feedback from the community.

Submission deliberations

23 November 2022

Submitters can present their views in person at the hearing, before Councillors deliberate on all submissions received.

Plan finalised

23 November - 7 December 2022

Council will make the necessary changes to the plan as a result of deliberations.

Plan adopted

21 December 2022

The final Interim Speed Management Plan is expected to be adopted by Council on this date.
---
Individual School Zones
Methven School, Mt Hutt College and Our Lady of the Snows Schools are located on State Highway, and will require a speed management plan from Waka Kotahi.
---
Aren't you just trying to lower speed limits?
No, we are using local knowledge and data to make sure we have done everything we can to make our roads safer. Our aim is to make sure that our local roads have travel speeds that match the risk.
Speed isn't the problem, drivers are. Why aren't you focusing on them?
Even the most skilled drivers make mistakes. Most drivers understand that New Zealand's roads can be challenging. Good speed management gives drivers the cues they need to judge the safe and appropriate speed for the road they are on. Council is also actively promoting road safety with school children and through public education campaigns.
What is good speed management?
Good speed management is when technology, data, first-hand observation and local knowledge are used to inform interventions to make a road safer for drivers. This is why your feedback will help us understand if we have our proposals right or not.
Will slowing down mean that it will take longer to get anywhere?
Not necessarily. Research shows that going faster doesn't save as much time as we think. Waiting for lights to change or traffic to move means total travel times don't vary much, even if you drive 10 km/h faster.
How do you make drivers slow down to the set speeds?
We are only responsible for setting the road speed limits; the policing of vehicle speeds is the responsibility of the NZ Police.
What happens after Council agrees to change the interim speed management plan, is it just a case of changing the speed signs?
Once Council has adopted the speed management plan, the plan will be submitted to the Director for certification. Staff will then be able to start implementing the changes as agreed in the interim plan. New signs will be installed to inform the road users and the changes will be recorded in the National Speed limit register. They will then be enforceable by NZ Police.
The Government is going to lower speed limits around schools anyway, so why not wait until then?
Council believes that our children and young people have the right to travel safely to and from school. As such, we don't believe we should wait any longer and have budgeted to put this plan into action in the 2022/23 financial year.
Why are the urban fringes based on a 3km radius?
Over the past ten years, Council has received many requests to speed limit changes. The majority were within 3 kilometers of urban centres, therefore we believe this principle will cover most requests over the next two years.
Submit your feedback online!
---
Submissions received
---