Waka Kotahi update: Walnut Avenue intersection improvement
Published: 6 September 2022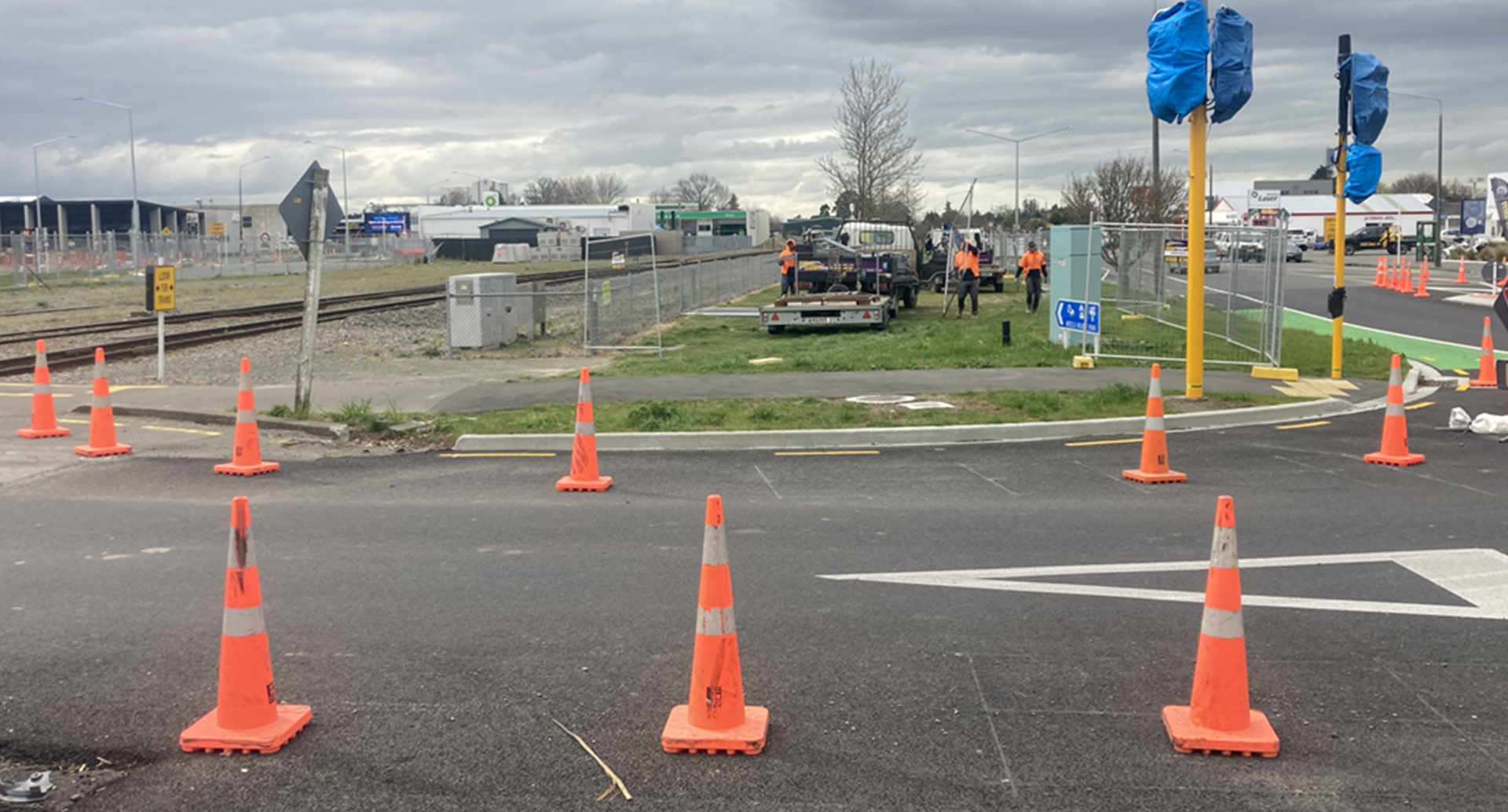 Waka Kotahi has provided an update today (6 September 2022) of its Walnut Avenue intersection improvement project, including a closure of the east-bound lane of Walnut Avenue between West and East Streets starting from tomorrow for about a week.
Rail corridor works - what you can expect
We are kicking off the last big phase of construction work to improve pedestrian, road and rail safety in and around Walnut Avenue, Ashburton.
Over coming weeks there is lots to do, particularly in the rail corridor. We will be:-
*Clearing the site of all the existing rail infrastructure, including existing rail signals and rail tracks.
*Installing new underground services including new drainage.
*Installing the new rail crossing, including laying the new pre-cast concrete slabs that will carry the track across Walnut Avenue.
*Constructing the new piece of road that ties into the level crossing.
*Installing new rail signal warning lights and new street lighting in and around the level crossing.
*Installing new pedestrian refuge areas (where pedestrians can safely wait while trains pass).
*Finishing footpaths and landscaping.
*Installing new fencing to make the rail corridor safe.
*Applying the final road marking at the level crossing and at the two road intersections where Walnut Avenue crosses East and West streets.
*Testing and inspecting the coordination of the rail and road crossing signals to tie in with the level rail crossing.
The amount of work means we will be putting new traffic management in place, including a closure of the east bound lane of Walnut Avenue between West and East Streets starting from tomorrow (Wednesday 7 September) for about a week. At the end of the month we are also planning for a full closure of Walnut Avenue in this location for up to seven weeks to safely and efficiently complete the works (see more information below).
Planned full closure of Walnut Avenue Intersection
There has been a lot of complex planning in preparation for this phase of work. To ensure the safety of workers, the public and to ensure all the new infrastructure in the road and rail corridors ties together properly, we are proposing to close Walnut Avenue between East and West Streets for up to seven weeks, starting on Monday 26 September.
At this stage, the closure is still a proposal and will not be confirmed until the traffic management plan is approved. If there are changes to the timing, we will let you know.
To try and minimise the disruption to the community we will operate a pedestrian crossing across the tracks during schools days from 8am until 5pm. However, it is important to note that the crossing will not operate during school holidays or weekends.
On weekends, during school holidays and before 8am and after 5pm on school days, pedestrians will need to make the detour over the pedestrian bridge, which is opposite Wills Street (see the map below showing the after-school hours detour).
We will also have signs in place showing drivers where to detour. Our friendly staff on site can also assist with any queries.
We apologise for this inconvenience and we sincerely appreciate the patience shown by the Ashburton community.
Still on schedule to finish by the end of the year
We are still on schedule to finish the work by the end of the year. We intend to keep you up to date with regular information about progress. If you know others who would like to receive regular updates, please provide them with the link to our website here.
Can we help? Please contact Fulton Hogan on 0800 ROAD FH (0800 7623 34) if you have concerns or to discuss any specific access needs such as nurse/doctor visits or Meals on Wheels deliveries to your property. Contact us anytime if the matter is urgent.
For general information on the Walnut Avenue intersection improvements project, contact us at walnutave@nzta.govt.nz or visit our website: www.nzta.govt.nz/walnutave
---
More News