Ashburton CBD: Burnett Street excavations to start next week
Published: 12 March 2021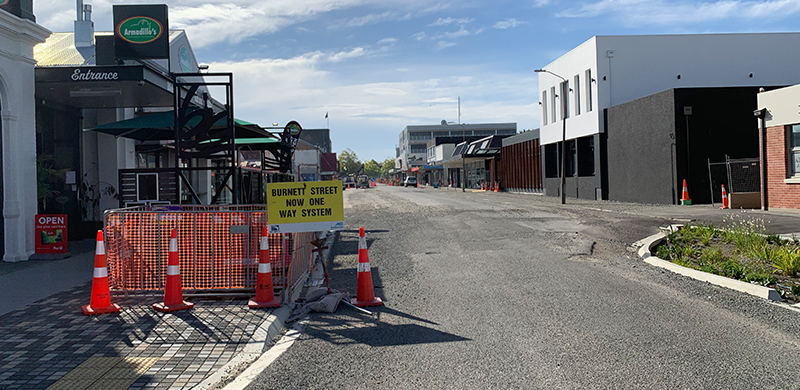 Share this article
Ashburton's new-look town centre is continuing to take shape, and next week residents are being advised to be mindful of excavations starting on Burnett Street.
From Monday 15 March, the contractor, Tru-Line Civil will begin digging up the old road surface and kerb along Burnett Street ready for the new surface to be applied.
Work will begin at the East Street end on the northern side of the road heading towards Cass Street before switching to the other side of the road.
The Council is advising that on-street parking will be impacted, but that Tru-Line Civil will endeavour to keep parks open wherever possible.
The footpath will remain open at all times and pedestrians will have continued access along the street.
Burnett Street has become a one-way road with entry via Cass Street, and traffic will be able to travel down the street while the digouts are underway.
The excavations and road preparation is expected to take two weeks to complete ready for the final road surface will be applied at a later date.
Learn more about the CBD Streetscape Revitalisation project at ashburtondc.govt.nz.
Follow Us