New tool for waste educators
Published: 15 March 2023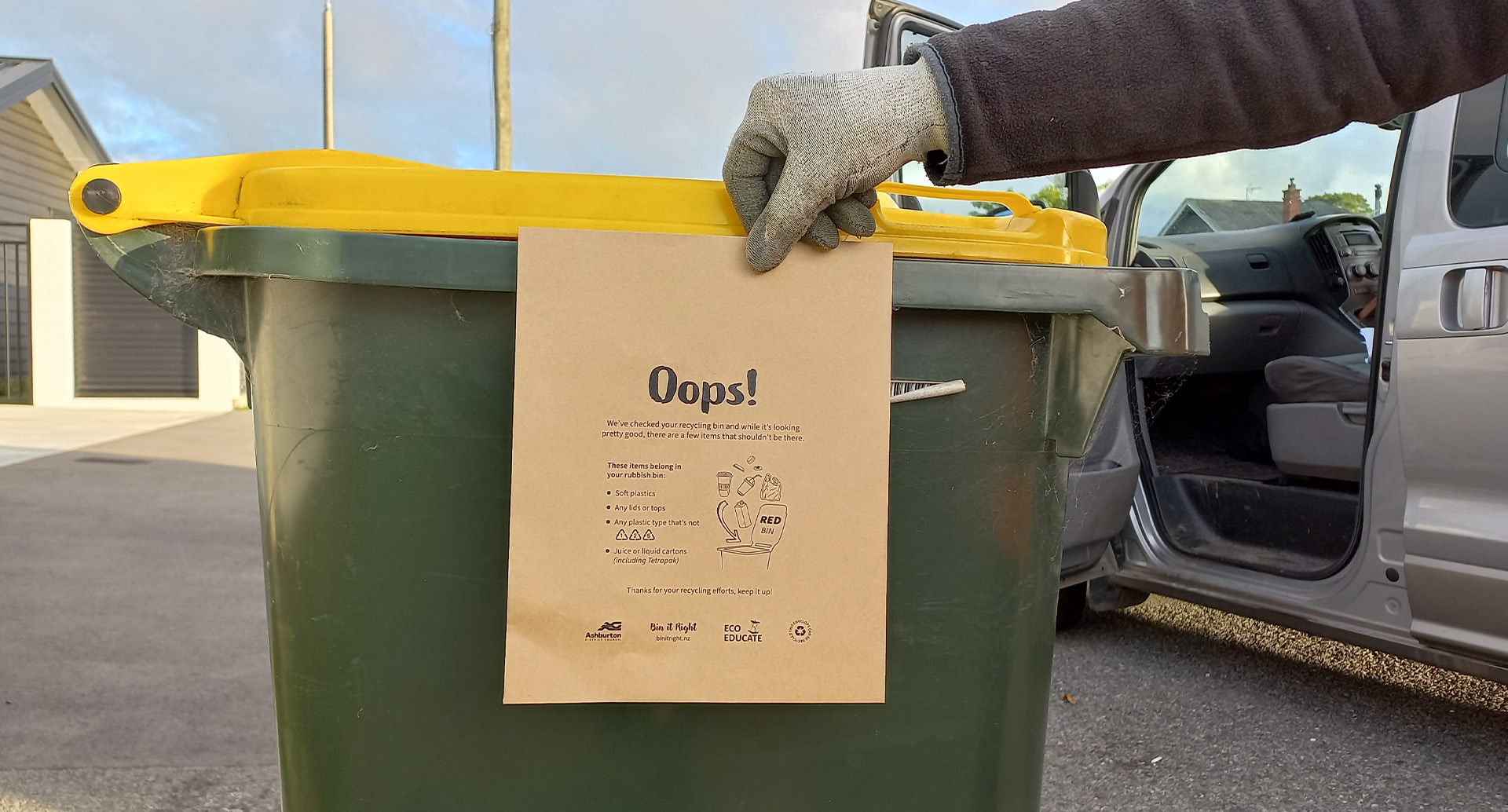 Waste educators working in the Ashburton District have begun using a new tool to encourage good kerbside recycling habits: a brown envelope.
From this week, people who inadvertently put out lids or other non-recyclable items in their yellow wheelie bins, will find the unwanted items returned in a brown envelope left in their letterbox. The envelope is printed with information about how items should be sorted and points to the Council's website for more information.
Infrastructure and Open Spaces Group Manager Neil McCann said residents were mostly getting it right when it came to what they could and couldn't recycle in their kerbside bin.
"But there are a few problem items, like lids and tops, that can easily catch people out. Returning these items along with further recycling information is a good way to share the message and it allows us to still collect their bin."
Mr McCann said the most common items that tripped people up were lids, tops, soft plastics and plastic that wasn't type 1,2 or 5.
"Items in the brown envelope need to go in the red wheelie bin for rubbish, and the envelope itself is recyclable."
Auditors would also continue to check recycling bins ahead of kerbside collections and mark bins that were too contaminated for collection.
"Some yellow recycling bins have to be rejected because they contain food or a lot of rubbish. If they were emptied into the truck, they would put everyone else's clean recycling at risk.
"We generally see positive changes once our audit team provides education and assistance to those properties whose bins have been pulled back.
However, for properties that don't actively make any changes, we will remove their bins."
In January, 140 households had their recycling bins confiscated, and another 1284 bins were rejected. The watch list was 1876 the same month.
However, Mr McCann said contamination rates in the Ashburton District for the kerbside collection were generally low when compared with other areas of the country.
"Most of our community are doing a fantastic job with their recycling, so I'd like to thank everyone who is making an effort and encourage them to keep it up.
"Our contamination levels are around five per cent, but every truckload that gets rejected at the recycling plant costs ratepayers money. So, these envelopes are just one more tool we can use to keep improving."
A recent item on Fair Go highlighted problems with contamination in recycling bins in public areas, like our CBD and parks and reserves. Mr McCann said the same rules applied for those bins, but unfortunately like the rest of the country, these bins are often contaminated with non-recyclable material.
"We would like to see less contamination in these bins, but it's harder to achieve. The main message is that overall, recycling is effective and worth doing."
More information about kerbside recycling is at www.binitright.nz
Share this article