New life for historic hall in library and civic build
Published: 23 May 2022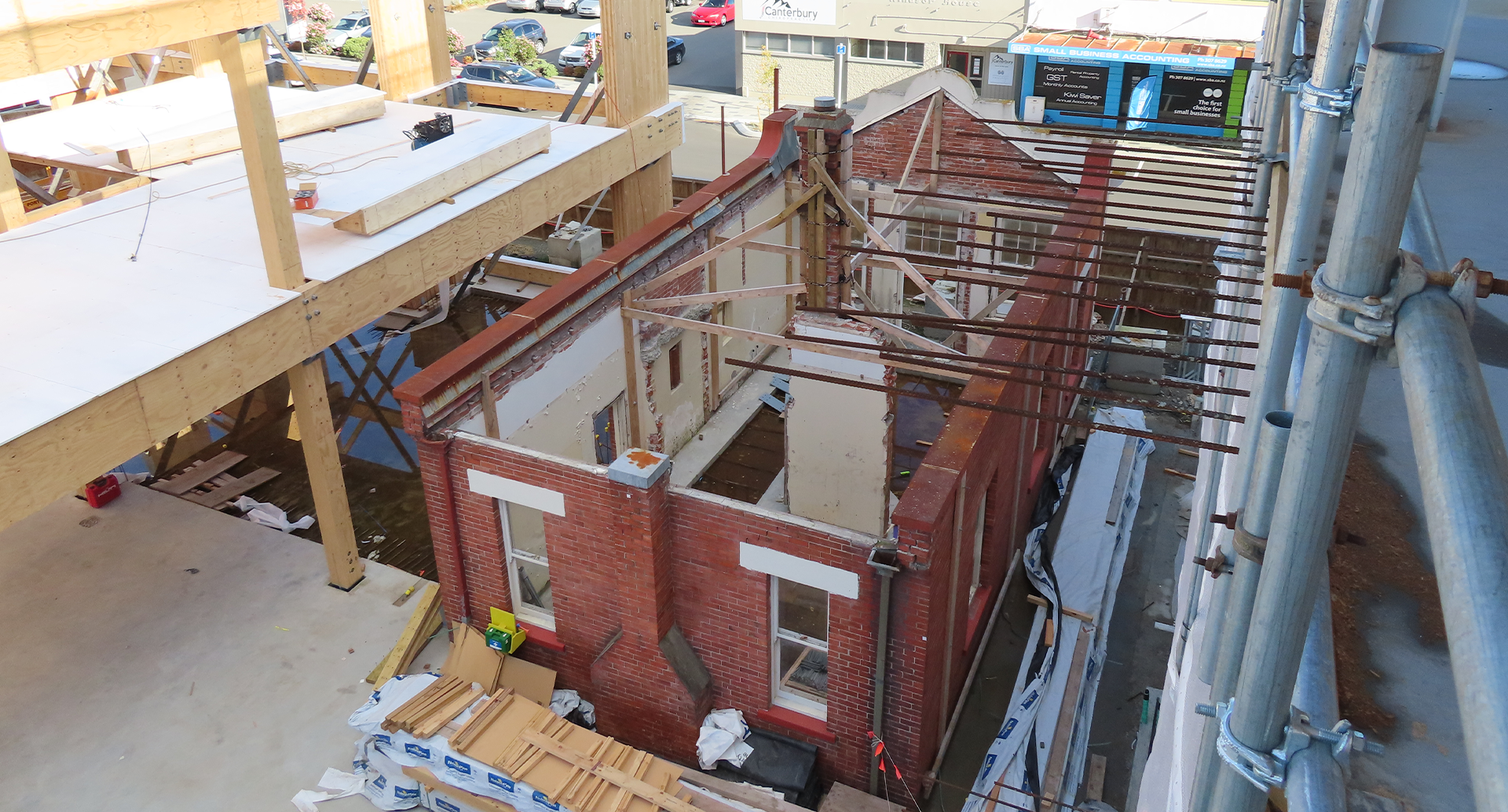 Share this article
Historic Pioneer Hall is taking on a new lease of life as it is carefully absorbed into Ashburton's new library and civic building, Te Pātaka a kā Tuhituhi and Te Waharoa a Hine Paaka.
The three-storey new build is rising up around the 106-year-old hall, which will become part of the children's library. It will be encased by the new building and visible from all sides.
The hall's roof is gone and it has been stripped back to bare bones; but its existing foundations have been strengthened and tied in to the new building's foundations. The interior will be strengthened with structural steel, concealed in the wall linings, and there will be new supports for an original fireplace and chimney, walls and the Havelock Street parapet.
Contractor Naylor Love Canterbury is building the new library and civic centre, and Regional director Graeme Earl said the company had good experience incorporating existing structures into new buildings and often had to manage unknowns.
"Retaining Pioneer Hall has presented some interesting challenges. Firstly, after deconstructing the internal structure and roof, we had to brace the building to ensure it is not compromised during the construction phase.
"We continue to monitor the hall structure, particularly the existing cracks in the brickwork as these can be affected by vibration. Historic buildings have often settled over time or walls are not particularly straight or plumb, which must be accounted for in diligent site measures before fabrication takes place."
He said Pioneer Hall had also yielded some surprises.
"The foundations were different than expected and the internal structure contained a large concrete vault. An original fireplace was also exposed during the deconstruction phase."
The hall will ultimately be greatly strengthened and enhanced to modern-day standards, while retaining the original brickwork, chimney, parapets and doors. It will have new underfloor heating and LED lighting to ensure it is comfortable for library users.
It will be encapsulated by a large glass atrium spanning between the two main buildings and people walking between the main and secondary building will be able to look down on the space.
Council Chief Executive Hamish Riach said councillors had been visiting the site regularly to monitor progress and to see how the historic hall was being recreated.
"The whole building is a special project and we look forward to working in it.
"Construction is a bit behind schedule, due to the same global supply chain issues and labour shortages that are affecting all builds, and while that is creating pressure on the budget, we are still currently within the $56.75 million budgeted."
"Our contractors are doing a great job, and barring any more unforeseen circumstances, we look forward to opening the doors to the public in about a year's time."
The project has received $20m from Government's Shovel Ready infrastructure programme.
Follow Us