Tree, final touches for CBD
Published: 25 November 2021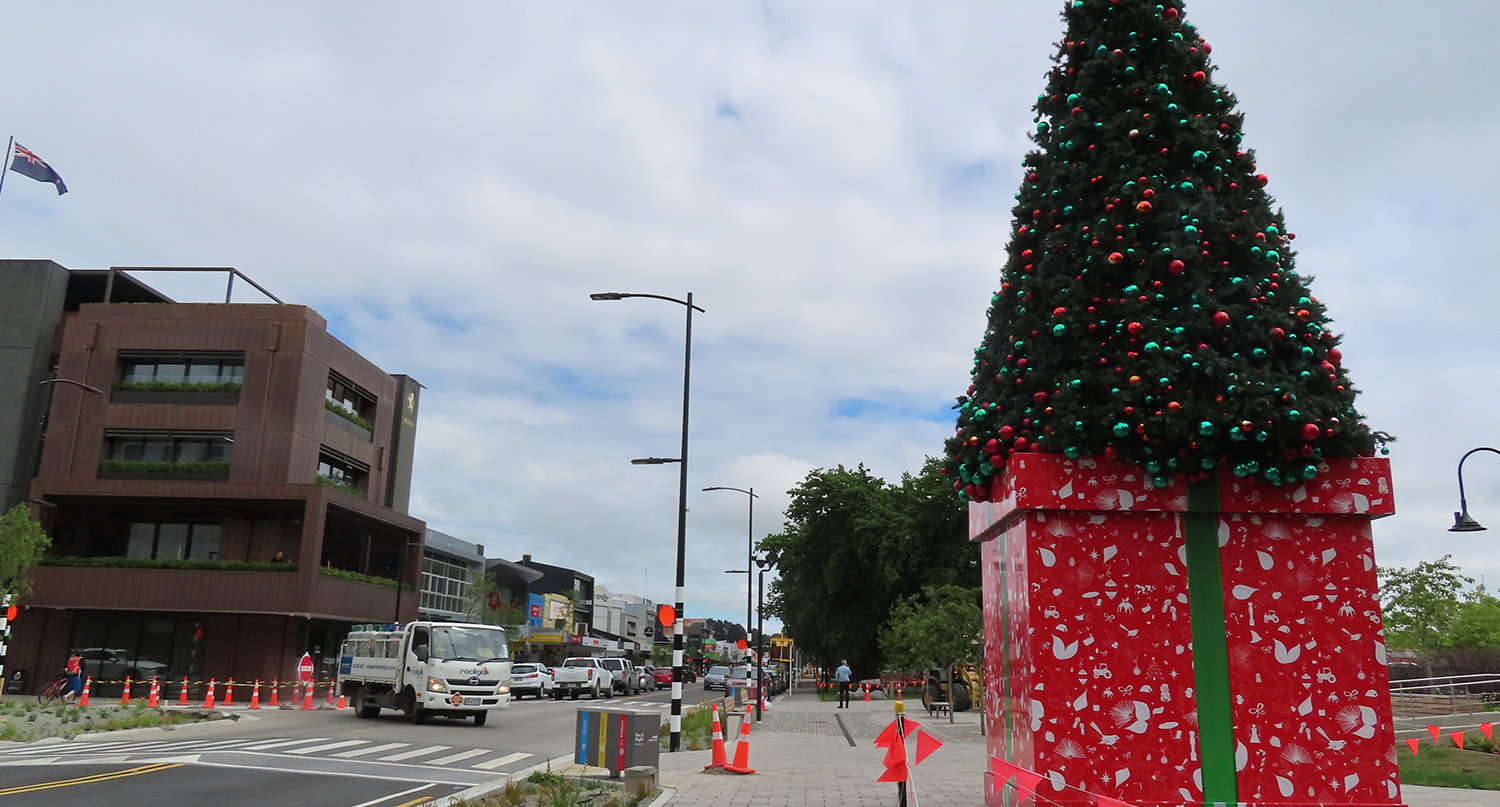 Share this article
Ashburton's giant Christmas tree has added some seasonal bling to the CBD, as contractors wrap up a two-year, $18 million rejuvenation project in the town's retail centre.
The new streetscape features wider footpaths and roads, landscaping and outdoor furniture, and a new slower centre, where the speed limit is now 30km/h for vehicles.
Chief executive officer Hamish Riach said the end of the project this week was a milestone event for the CBD and would help breathe new life into the commercial centre.
"We began work on this project back in 2017 with the intention of reinforcing the CBD's importance, reclaiming retail spend and attracting more businesses there. To achieve that, the space needed to be vibrant and viable.
"We're pleased with the result and the work of the main contractor Tru-Line Civil. We've future-proofed the CBD for years to come by ensuring a lot of the underground infrastructure has been renewed. We've also relocated fibre cables and power lines."
Mr Riach said that the project had also been completed to its original programme, despite some of the challenging work and the impacts of Covid-19, which struck just months after the work began.
Contractors started on Cass Street then spread street-by-street through the CBD, working on Moore Street, Havelock Street, East Street, Tancred and Burnett Street. Big changes have included Tancred and Burnett Street becoming one-way, with angle parking, and lowering the speed limit in the CBD to 30km/h.
Mayor Neil Brown said the new streetscape had been a major project affecting infrastructure and activities and Council would be monitoring how the space was used.
"We will be doing a parking study as soon as the parking sensors are installed in the new year and that will tell us about patterns of use. Council's new parking strategy and management plan also has provision for a new public car park on West Street opposite Baring Square East.
"We know the work has been disruptive to local businesses and we thank them for their patience. We have created for them a modern, pedestrian-friendly precinct that will be a pleasure for customers to move around in."
He said there would also be a lot more foot traffic in the CBD when Council's new library and civic building was completed at the end of next year.
"We hope local people will buy local. This Christmas is a chance to see what we've achieved in the CBD and to support local businesses."
Follow Us