New photobook showcases Ashburton District cultural diversity
Published: 14 June 2021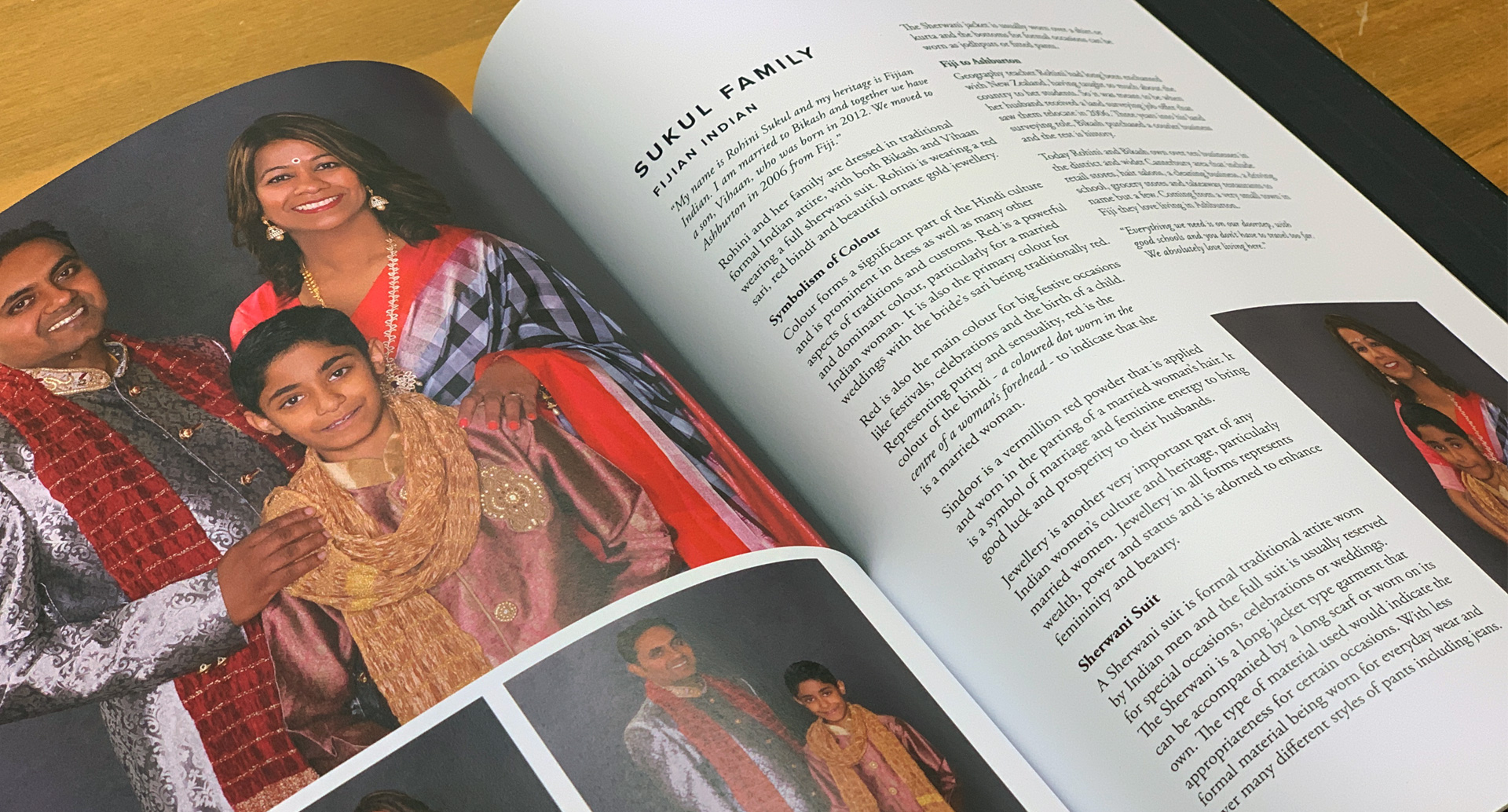 A special book of photographs showcasing the cultural diversity of Ashburton district residents has been unveiled to the 42 people who star in it.
Images of the 42 were taken by local photographer Emmily Harmer before Level 4 Covid lockdown last year and they have since been turned into a unique book called Hakatere Home & Heritage.
The book was presented to some of those involved at a special gathering at the Ashburton Museum. Some of the photo subjects are home grown and some have come from countries like Fiji, Tokelau, Mexico and the Philippines.
Those who are featured, and their families, were invited to bring food of their home country to the book unveiling and be part of a Kiwi pot-luck dinner on Friday. Some of the dishes included lamb mince samosas (South African Indian), Maori fried bread, taro and coconut cream (Tokelau), custard cake (Filipino, nachos (Guatemala) and beef and parsnip stew with sourdough bread (British).
The photobook was designed as a cultural initiative under the Ashburton District Council's Welcoming Communities programme, to celebrate the district's diverse ethnicities.
Ashburton District Mayor Neil Brown said the Hakatere Home & Heritage project was a wonderful opportunity to celebrate the community and share stories.
"Alongside the photos, there is information about the people who are featured in the book."
Seeing their stories and photos in print was a proud moment those in attendance.
"They each share why they call our district home and the significance of their clothing; it's a fascinating project that celebrates our people," he added.
The stories and photos of those featured in the book will also become part of an exhibition at the museum that is scheduled to run from July to September this year. Participants will also be invited to take part in Ashburton Museum workshops during the school holidays in July.
Two copies of the book have also been deposited with the National Library of New Zealand. One will go to the Alexander Turnbull Library for its national research and heritage collection. The second will go to the general New Zealand and Pacific collection.
Roughly 150 copies of the hardcover A4 book have been printed and digital copies were also archived.
Their stories and images will be a time capsule for the Ashburton District and New Zealand.
Upcoming meetings
Road Closures