EA Networks Centre pools to close for maintenance
Published: 21 December 2021
Share this article
EA Networks Centre will close its pools for three weeks in January for scheduled maintenance, but the Tinwald pool will be open longer hours as an alternative.
It is the first major pool closure for several years and the maintenance work involves draining a million litres of water from the main lap pool so cracked and broken tiles can be replaced.
The pools will be closed from 10 January to 31 January. The centre's stadium and gymnasium will remain open even though the lap pool and leisure pool are closed.
Ashburton District Council Community Services Group Manager Steve Fabish said some maintenance was able to be carried out without closing the pools, but there were bigger jobs to be done this year.
"As well as replacing broken tiles in the pools, we will also be replacing the tiled flooring in the men's and disabled changing rooms. There is also important maintenance to do on the pumps and filters that handle water in the pools.
"Some pools do an annual shutdown. We have avoided doing that, but it is necessary this time. We need to drain the main pool, which will then take three or four days to refill and reheat."
Mr Fabish said the outdoor Tinwald pool would be open longer hours, from 8am to 8pm, during the shutdown so people would have an alternative pool to swim in.
Learn to swim classes will also be held in the Tinwald pool.
"We've also had some good news for pool users at Hinds and Rakaia. Grant Hood Contracting has demolished the old changing rooms at both pools before Christmas, which is much earlier than we planned, so that clears the way for them to be open in January or as soon as the pools can be made operational."
The changing rooms are being demolished because they are an earthquake risk. Portaloos will be moved onsite after the demolition while both pools work on longer-term solutions for changing facilities.
Below: The old changing rooms at the Hinds Pool were demolished at the weekend.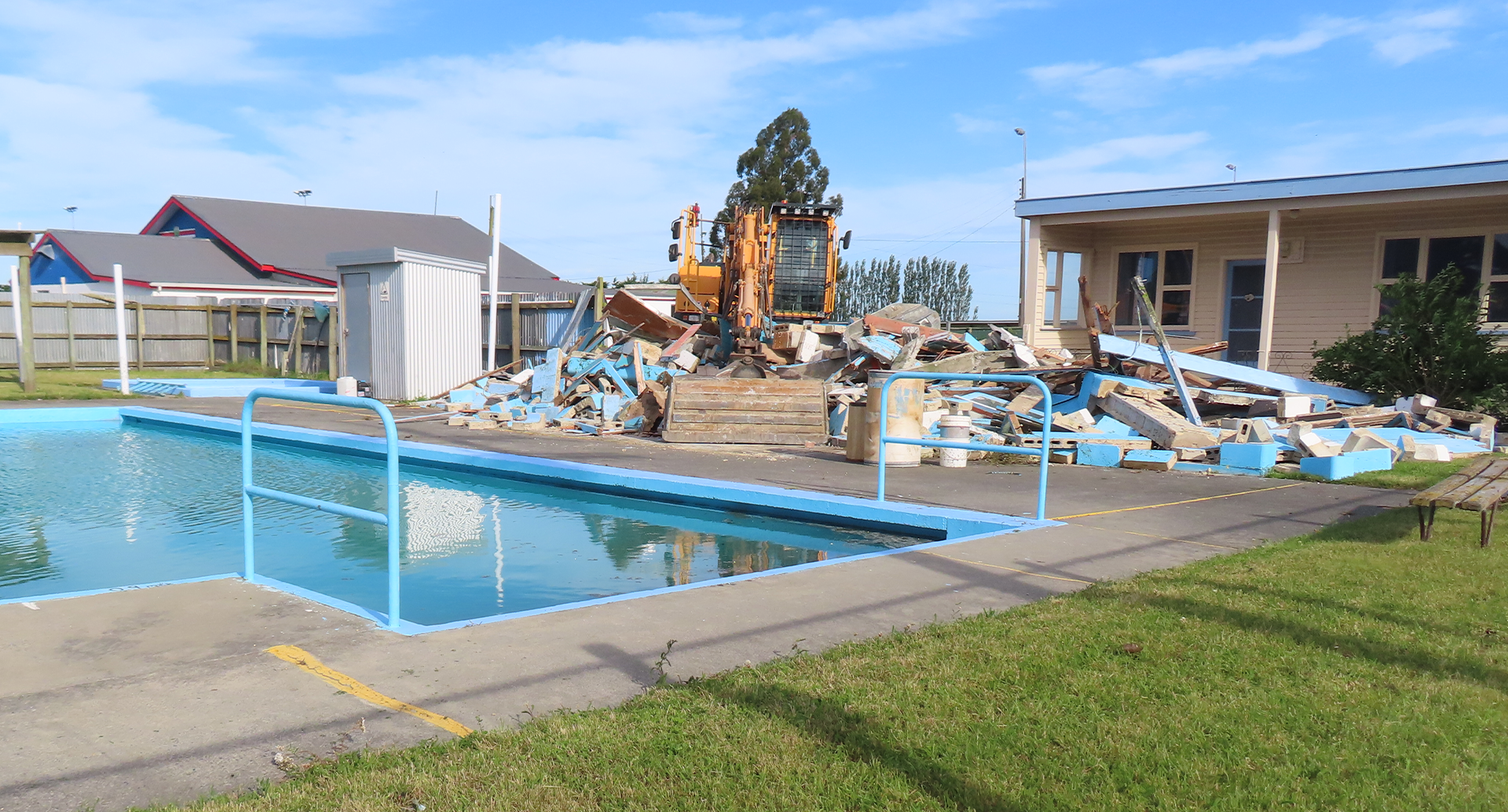 Follow Us