Council delivers clean water to Methven businesses
Published: 22 July 2021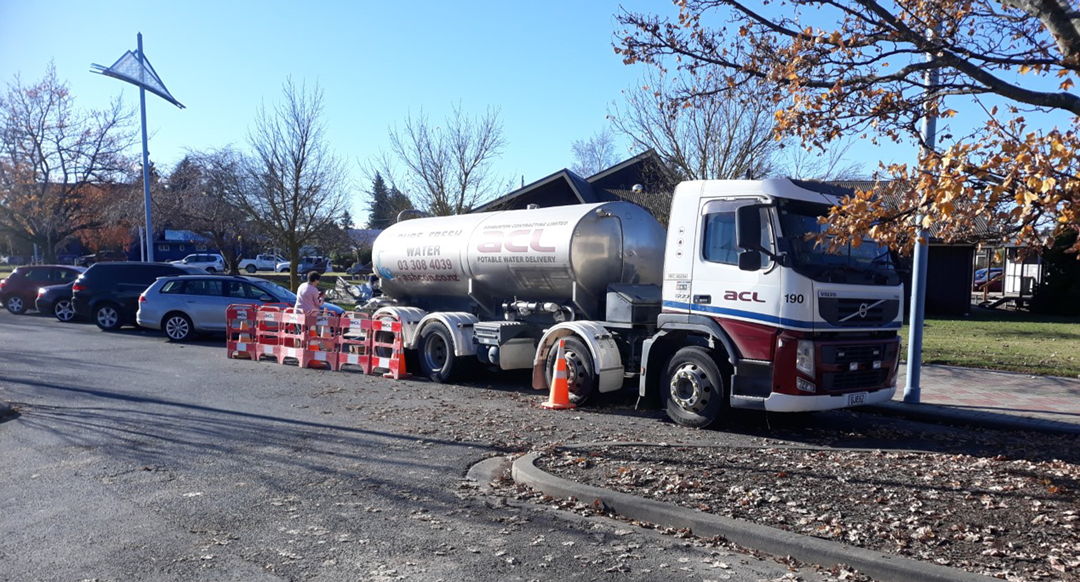 Methven businesses are being visited by water tankers twice a day while the town is under an extended boil water notice.
Ashburton District Deputy Mayor Liz McMillan says the boil water notice is not ideal because many tourists are in town for the school holidays, and Council recognises that local businesses are experiencing additional difficulties managing under the boil water notice.
"Council has been reaching out to our local businesses to see what can be done to support them.
"As a result, a roaming water tanker is now checking in on them in the morning and again in the afternoon to refill water containers.
"That will continue to happen until the boil water notice is lifted."
Both Methven and Methven Springfield drinking water schemes take shallow groundwater near the Ashburton River and pipe it to separate treatment plants before distribution. The water table was high at both intakes and still contained sediment as a result of rain.
Infrastructure Services Group Manager Neil McCann said the boil water notice resulted from May's one in 200-year flood and further heavy rain in the catchment last weekend.
"Methven's town intake gallery has been significantly impacted by sediment-laden floodwaters, which has reduced the effectiveness of the treatment plant.
"While the turbidity levels in the water have been dropping since the weekend, the closely monitored reading needs to drop below 1.0 NTU to indicate the plant is functioning properly and clean water is being delivered to residents connected to the schemes."
NTU stands for Nephelometric Turbidity unit, or the unit used to measure the turbidity of a fluid or the presence of suspended particles in water.
A boil water notice can only be lifted after three consecutive days of compliance with national water testing regulations, which Government sets.
"More rain, as we are experiencing today, unfortunately, doesn't help, but Council officers are monitoring the situation closely," Mr McCann added.
Deputy Mayor McMillan said the Council's recently adopted Long Term Plan includes $14.15 million in the next three years for water treatment upgrades on the Methven, Mount Somers, Methven Springfield, and Montalto schemes, and will see design work begin this year, with construction planned next year.
Ashburton District Council has also dropped large water tanks to pre-schools and the town's rest-home, and a 10,000-litre tanker is parked permanently near the Methven Medical Centre for residents to access clean, safe drinking water.
Residents and businesses connected to both schemes are encouraged to sign up to the Council's text alert service by texting their postcode to 4196, to be notified when boil water notices are issued and lifted.
For more information, alerts, and notices, visit the Council's website.
Upcoming meetings
Road Closures