Successful contractor confirmed for Ashburton Library and Civic Centre build
Published: 21 April 2021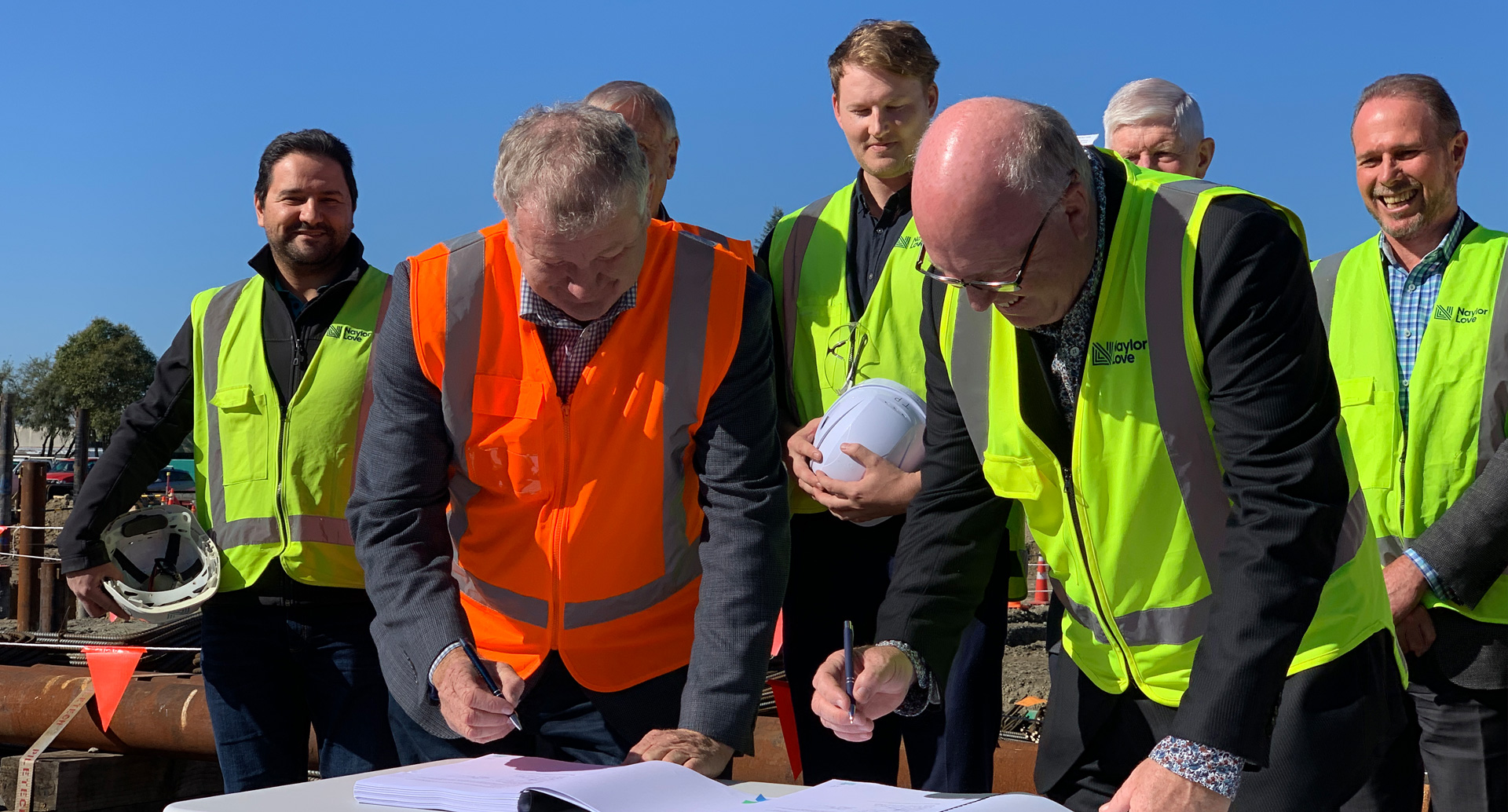 Share this article
Ashburton District Council is pleased to announce that commercial construction company, Naylor Love Canterbury will build the district's brand new Library & Civic Centre.
The $42 million construction contract was officially signed today at the site where the new facility will be built on the corner of Havelock Street and Baring Square East.
Council had previously announced Naylor Love Canterbury as its preferred contractor for the project in late December 2020 following an open tender process and had been in detailed negotiations with the company since then.
Ashburton District Mayor, Neil Brown said today's signing was a momentous occasion for the Council and wider Ashburton community.
"We are delighted to entrust the construction of this important community asset to a long-standing, award winning company with a proven track record delivering large scale projects right across New Zealand.
"In addition to their commercially competitive tender, we were really impressed by Naylor Love's leadership in environmentally sustainable construction. They have a great deal of experience in timber frame structure builds as well as artesian well heating and cooling which will be key components of the new facility."
Naylor Love Canterbury Regional Director, Graeme Earl said the company was thrilled to be delivering such a major project for Mid Canterbury.
"Ashburton's new Library & Civic Centre will serve residents for decades to come, utilising some of the latest efficiencies in modern construction.
"It is our great pleasure to be working with the Ashburton District Council as well as local sub-contractors to bring such an exciting facility to life."
Naylor Love is New Zealand's largest privately owned construction company, with eight offices throughout the country. They have completed a number of major civic construction projects, including the Environment Canterbury offices in Christchurch, Lower Hutt Town Hall and Events Centre, Nelson Airport Terminal, as well as the Ashburton EA Networks Centre.
Construction has already begun and is expected to be completed at the end of November 2022.
Follow Us