Ashburton CBD: Night works continue as upgrades progress
Published: 18 March 2021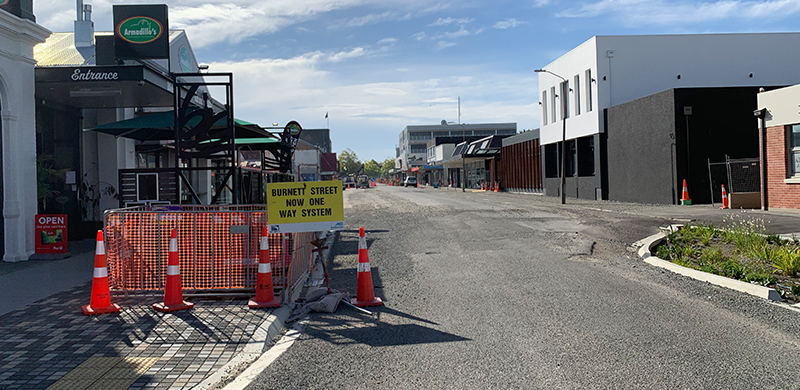 Share this article
The bulk of East Street's new footpath and cycleway on the western side of East Street is now complete, and next week, work will be underway to connect new water pipes between East and Burnett Streets.
The Council's CBD streetscape contractor, Tru-Line Civil has finished installing underground drinking water pipes in the Burnett Street footpaths and will be working overnight on Wednesday 24 March to hook these up with the East Street ones at the intersection.
A water shutdown is planned from 11pm that night until the early hours of 25 March.
While the night work is underway, East Street will be temporarily closed to south bound traffic between Havelock and Tancred Streets from 7pm until 5am, as will Burnett Street from Cass Street right through to East Street.
The East Street railway pedestrian crossing at the public toilets remains closed at this time while the new wooden deck and concrete ramp are constructed, but visitors can still access the West Street carpark from the Tancred Street crossing.
New bike stands have also been installed at the Tancred Street railway crossing and just south of the public toilets ready for cyclists to enjoy easy parking along the new shared footpath/cycleway.
Follow Us