New sewer line project progresses on schedule despite May weather setbacks
Published: 28 June 2021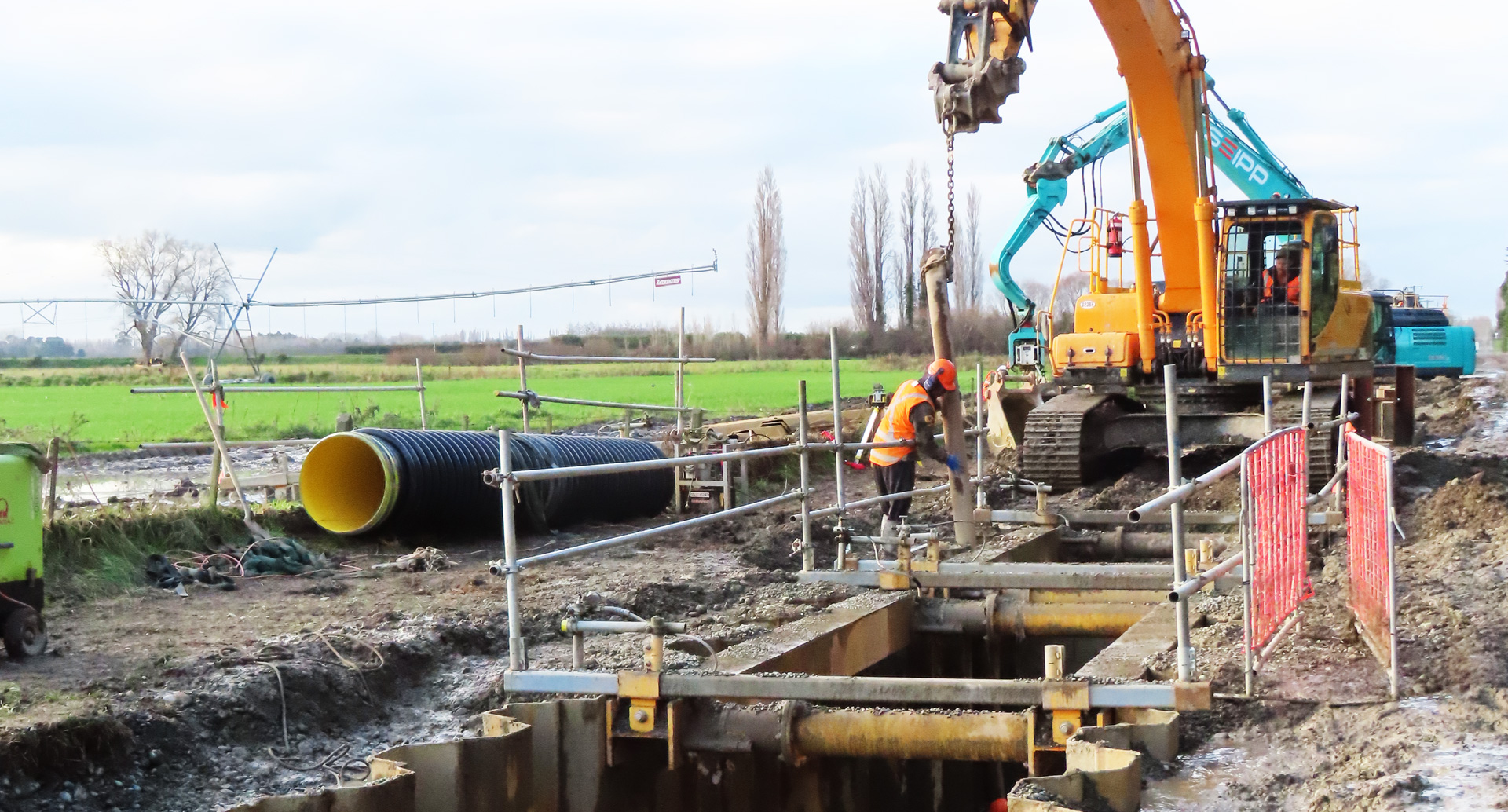 A dramatic rise in the water table after May's flooding weather event has made life tricky for contractors working on a new sewer line near the Ashburton River, but the project is still on track and making good progress.
Council contractors Seipp are laying just over 2km of pipe from the river's edge at Milton Road South to Wakanui Road, where it will link with a 3km section of pipe being laid by Ashburton Contracting Ltd (ACL).
The $10 million project, known as the Ashburton Relief Sewer, will provide new sewer lines to the town's treatment facility to cope with the expected growth in the decades to come.
Funds for the project include $8 million from Government as part of a Covid stimulus package. Government project engineers were in town last week to check on the progress of the project, to ensure deadlines were being met and that funds were being well spent.
At Milton Road South they saw where the pipe is being buried at least 6 metres deep. Contractors said the water table in the area had risen by 1.5 metres after heavy rain caused flooding in the Ashburton River on 31 May. They are sheet piling the deep channel being dug for the pipe so water can be pumped out of the workspace.
At the river, the pipe links to the Ashburton River Crossing and Pump Station, completed last December.
ACL has been working along Wakanui Road and has now moved onto Albert Street, where the pipe will run for several hundred metres before turning towards Mill Creek. The final leg will run alongside the creek to Bridge Street.
Infrastructure Services Group Manager Neil McCann said the work was a sizable upgrade.
"The roads that have been temporarily closed are being re-opened to the public as soon as possible.
"Wakanui Road re-opened on Friday and its berms will be reinstated in warmer weather," he said.
ACL expects to be working on Albert Street for 10 weeks and the street will be closed to all non-resident road users. Albert Street residents, Ashburton Christian School staff, students and parents will still have access to the school and their homes.
The project is expected to be completed by March 2022.
To stay informed of updates by visiting the ARS Project page.
Share this article