Mayor endorses local teen's national ambassador role
Published: 3 February 2023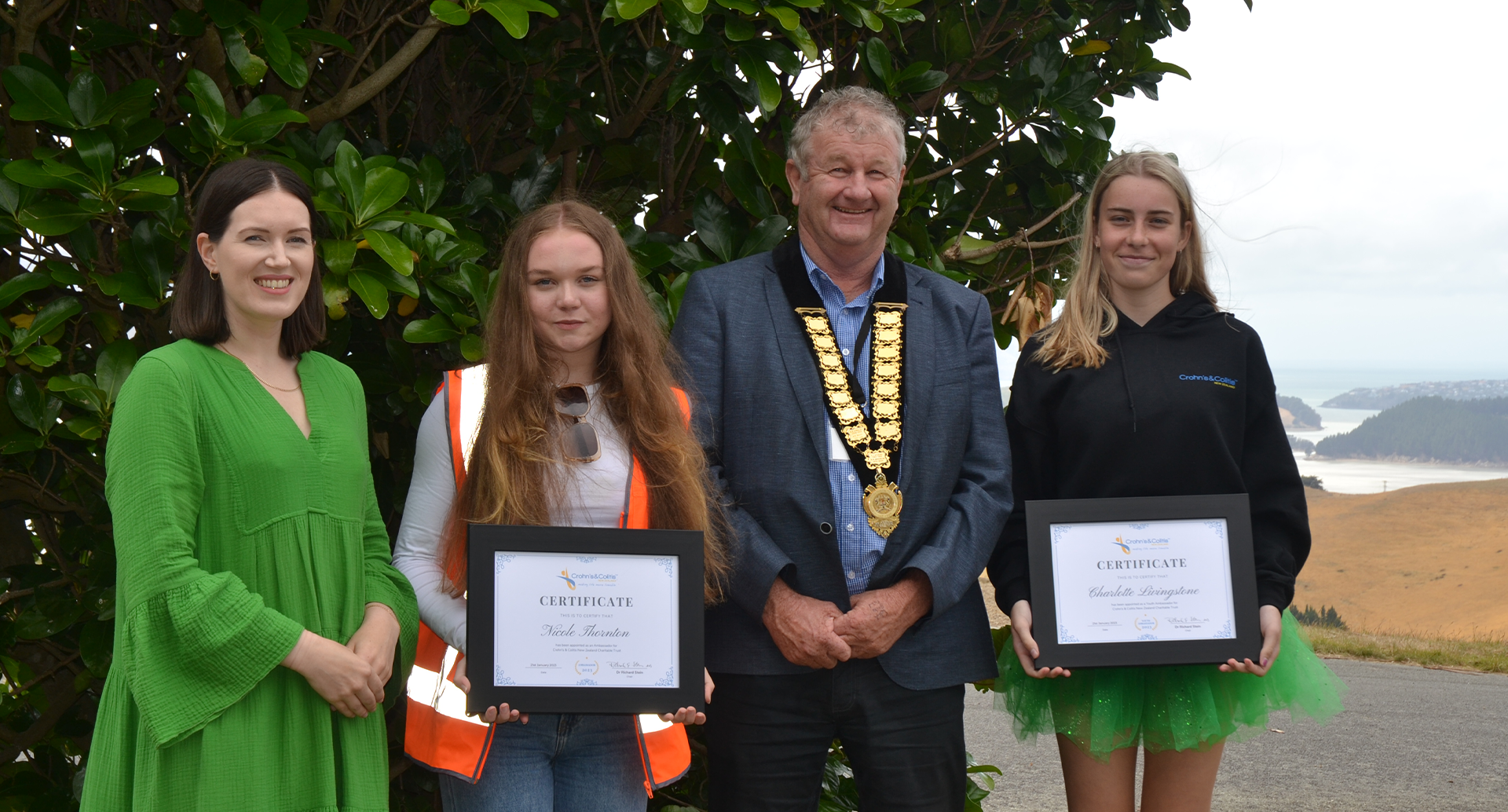 Share this article
Ashburton teenager Charlotte Livingstone has become one of two new New Zealand ambassadors to advocate and raise awareness about Crohn's disease and ulcerative colitis.
Charlotte, 15, was diagnosed with Crohn's disease three years ago and has just returned from taking part in a national camp at Living Springs, Lyttleton – Ashburton District Mayor Neil Brown made a special visit to the camp last week to present her with her ambassador's certificate.
Ninety-six children and teens with Irritable Bowel Disease attended Camp Purple and Mayor Brown said it was a privilege to meet Charlotte and her co-ambassador Nicole Thornton, who was diagnosed with Crohn's disease at 8 and is now studying to be a nurse.
"Charlotte and Nicole are managing a disease that has a big physical, social and psychological impact on their daily lives. As ambassadors, they will advocate for the cause and help raise awareness to support the 20,000 Kiwis living with it too."
Charlotte shared her experiences living with Crohn's disease on World IBD Day last year in a video entitled IBD Has No Age. She has become an instrumental member of the young IBD community, advocating for greater understanding and support for those living with the condition.
Mayor Brown said raising other people's awareness of the disease was important and Charlotte was also an inspiration to other teens and young children dealing with it.
Camp Purple is run by Crohn's and Colitis New Zealand Charitable Trust. The camp is free and gives the children the opportunity to understand more about their illness, challenge themselves, have fun, and, most importantly, learn that they are not alone.
Fellow ambassador Nicole Thornton is already well-known for her advocacy work, both in the community and in Parliament. At the age of 12 she presented a petition to Parliament and gave nationally televised testimony to the Health Select Committee to allow workplace toilet access to those that might need a bathroom urgently.
Mayor Brown was joined by ACT MP Brooke van Veldon at the ambassador ceremony last week.
Follow Us