Glow in the Park 2023 prepares to dazzle
Published: 24 May 2023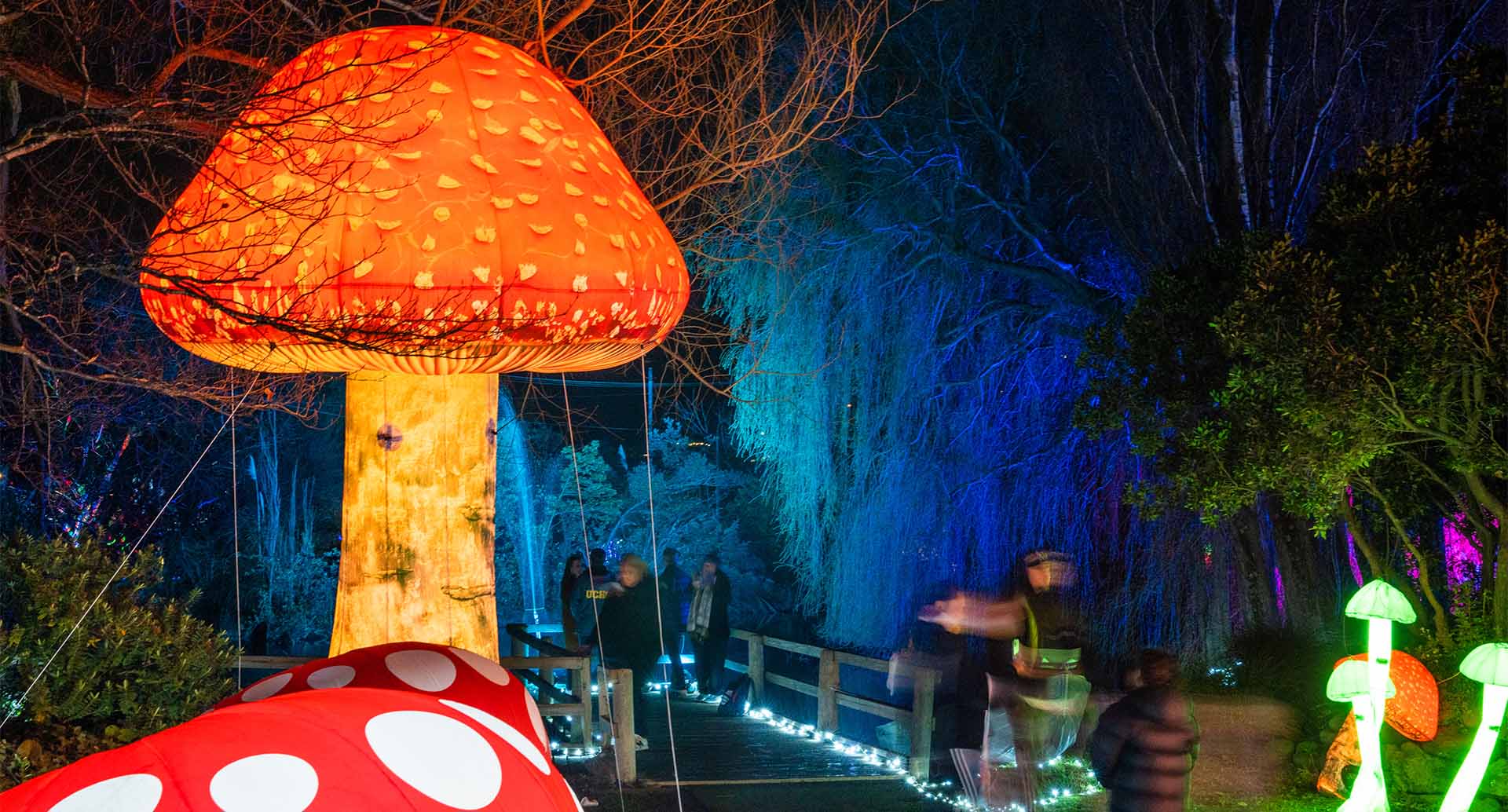 The final sparkling details are falling into place for Glow in the Park, at Tinwald Domain next weekend.
This free, family event will run over three magical nights and has been designed to put a glow on winter in the Ashburton District, and you'll see the Tinwald Domain and adjoining historical Tinwald Plains in a new light.
The event is from 5.30pm-9pm on June 2, 3 and 4 of King's Birthday weekend and alongside the lighting displays will be food, entertainment and interactive activities.
Mayor Neil Brown said Glow in the Park was a great community event, that residents and visitors could attend for free.
"The first glow last year was a huge success and we're all looking forward to the 2023 version, which has some different features and attractions. The trees in the Tinwald Domain and the heritage buildings at the Plains Museum make a really good stage for the lighting displays and I'm looking forward to heading along myself."
Plenty of free carparking will be provided in an area off Maronan Road (just follow the signs and directions of event staff), with a separate mobility parking and a drop-off zone located directly in front of the Plains Vintage Railway and Historical Museum.
What's to see and do?
Lighting Displays:
Immerse yourself in a spectacular display of colour and artistry - meet our glowing winged fairies, be mesmerised by the inflatable mushrooms, spot the swans that have snuck into the garden and chill in the winter igloo zone! Visitors of all ages will enjoy the range of interactive light installations!
Plains Railway & Historical Museum:
Experience the magic of light against the backdrop of the heritage village. Visit the Ashburton Fire Museum and get a peek at Mid Canterbury's firefighting past, all under the glow of decorative lighting.
Family Entertainment:
Glow in the Park is not just a feast for the eyes! Try your hand at glow-in-the-dark bowling, cut some shapes at the silent disco and experiment with our interactive light installations. Live music will keep you grooving and smiling all night long!
Food Caravan & Dining Area:
Indulge in delicious hot food and drinks from our vendors while you soak in the surrounding atmosphere. From gourmet burgers to glowing candyfloss, you'll find everything you need to satisfy your cravings.
Come hungry and leave happy!
More highlights and an event map can be found at glowinthepark.nz
Share this article