Rakaia waste station officially open for business
Published: 21 November 2022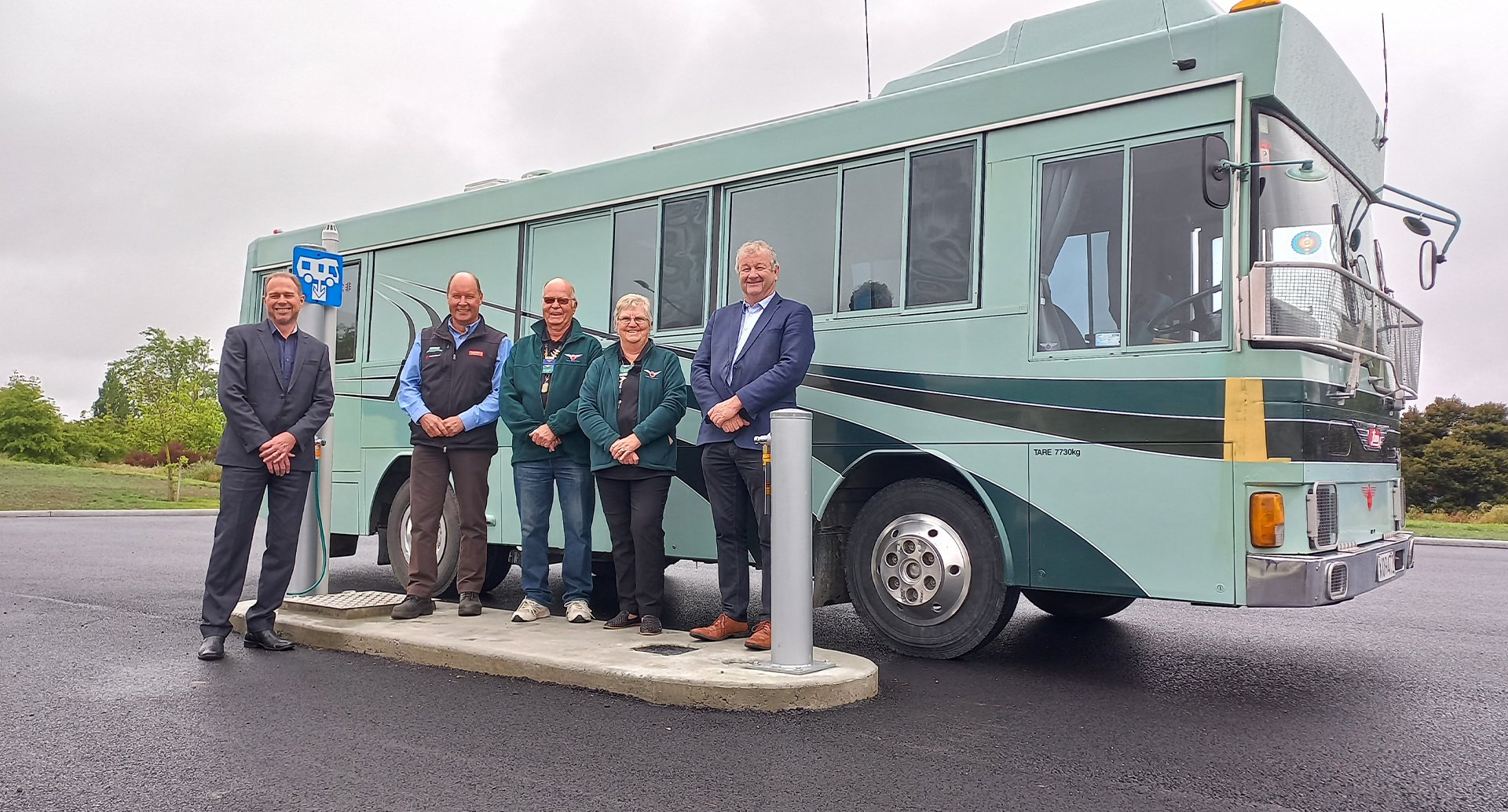 Share this article
Motorhome drivers and caravanners will be able to pull up in Rakaia and take a load off, literally, thanks to a new waste dump station now operating in the town.
Council has spent $160,000 developing the 720m2 site, and a pre-cast underground concrete unit and signs were provided by the New Zealand Motor Caravan Association. Users can pull up, dispose of their wastewater (sewage and grey water), and even refill their drinking water tanks.
Ashburton Mayor Neil Brown said the underground unit was connected to Rakaia's wastewater reticulation system, so waste from the motorhomes was properly treated and disposed of.
"People can also fill their freshwater tanks from taps on the site, and that water comes from Rakaia's community drinking water supply. The whole waste station is just 200 metres or so from Rakaia's shopping centre, cafes and pubs, so people can stop and explore a little."
The previous waste station was at the Rakaia salmon reserve where there were fewer parks for large vehicles after they had disposed of their waste, and it was not so user-friendly.
The new Rakaia waste station is open 24/7 and has been in regular use since unofficially opening earlier this month.
Mayor Brown said the site was ideally located for tourists and motorhome drivers on State Highway 1, and for those heading to Methven via Thompsons Track.
The site is at the end of Ferguson Street, on land between Railway Terrace East and the railway lines. The large, sealed area has kerbing on its boundaries and the site is surrounded by grass on three sides.
It typically takes travellers 10 minutes to offload their waste and users wash down the facility after using it. The Rakaia site will be promoted by the motorhome caravan association as part of its waste station network around the country.
The New Zealand Motor Caravan Association has around 120,000 members and its South Canterbury branch is chaired by Ashburton woman Lyn Peterson.
She said the new Rakaia site had already been added to the association's network, and the station was routinely being accessed by members as they travelled around the country.
Ashburton District is on the association's list of accredited motorhome-friendly districts.
Follow Us