Hardworking volunteers receive civic awards
Published: 21 June 2022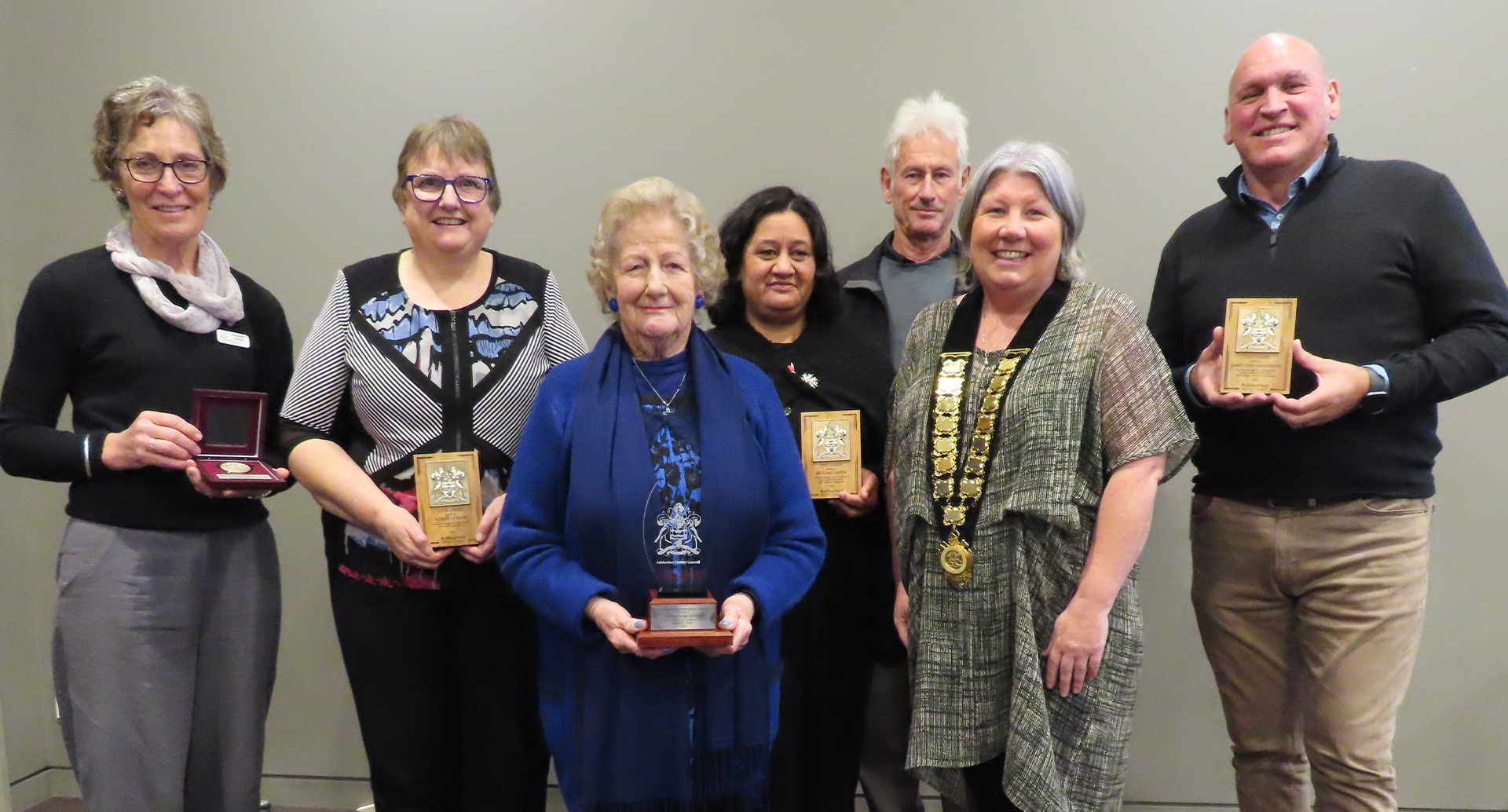 Share this article
From pickles that have helped fundraise $46,000 for charity, to delivering hundreds of meals to flood-affected families, the good and voluntary deeds of Ashburton people were highlighted this week at a special civic ceremony.
Community Honours Awards were presented to three people and two organisations, with one more to come. Patricia McLaren received the Mayor's Award for Public Service, Mid Canterbury Rural Women received an Ashburton Medal and Neroli Cross, Jim Henderson and KidzMethven each received a Civic Award.
Trevor Croy, not able to attend Monday's ceremony, will receive a Mayor's Award for Public Service at another time.
The Mayor's Award for Public Service is given to people who have made a significant and sustained contribution to the district, and Deputy Mayor Liz McMillan had the honour on Monday of recognising each of the recipients and congratulating them personally on what they had achieved.
"We are so lucky with the calibre of volunteers we have in this district and the six we are honouring certainly have made a difference in many peoples' lives," she said. "These wonderful people have gone above and beyond, and we thank them through these community awards."
The recipients, and family and friends, were hosted by the Deputy Mayor, several councillors and Council Chief Executive Hamish Riach at the Ashburton Event Centre. Their achievements were detailed in individual citations read at the award ceremony.
The Mayor's Award for Public Service is the highest civic honour bestowed by Council and Mrs McLaren has given years of voluntary service to a host of organisations, including Red Cross and St John.
She is also widely known for making jams and preserves and selling them at the local farmers' market – over the years she has fundraised $46,000 and given it to Ronald McDonald House, which helps support families who must travel to Christchurch for their child's medical treatment.
As a child, she was taught to make raspberry jam by her father and her home-making skills have been well appreciated by her family and by the community. Mrs McLaren also knits for charity.
The Ashburton Medal honours the significant achievement or contribution of an individual or group and it went to Mid Canterbury Rural Women for their work during the floods of May 2021.
Their members collated and distributed food donations, prepared ready-cook meals and visited those suffering most in the aftermath of the floods.
Their efforts and kindness at such a stressful time made a big difference to those most affected.
The Civic Awards recognise substantial service that benefits the district.
KidzMethven began as a group of Methven parents who set out to develop more outdoor play areas for the children of their town – they ended up building a skatepark that is now an attraction for young people and skateboarding tourists.
The skatepark was recently vested with Council as an asset to maintain.
Jim Henderson was recognised for his often behind-the-scenes work in rugby circles and as a civil defence volunteer.
Mr Henderson has devoted many voluntary hours to the Hampstead All Sports Club, from setting up the fields for rugby to washing the dishes in the bar at the end of the night. He has served as a coach, manager, referee and helped administer the sport at Mid Canterbury Rugby level.
In his civil defence role and when he was a trustee on the Pacific Island Community Trust, he provides guidance, governance and leadership along with his helping skills.
Neroli Cross currently gives her time and talents to 10 organisations in Mid Canterbury and a common theme in her volunteering is communication. Amongst her many roles she is a caring caller for St John and provides regular and friendly conversation over the phone to her client.
In another role, she reads the local news from a newspaper over the phone so it can be recorded and listened to by members of Blind Low Vision NZ. She also helps Hospice Mid Canterbury, Neighbourhood Support, Mid Canterbury Plunket, Timebank and is a reader/writer for students with learning difficulties.
Follow Us