Language app designed to spread the word
Published: 28 April 2022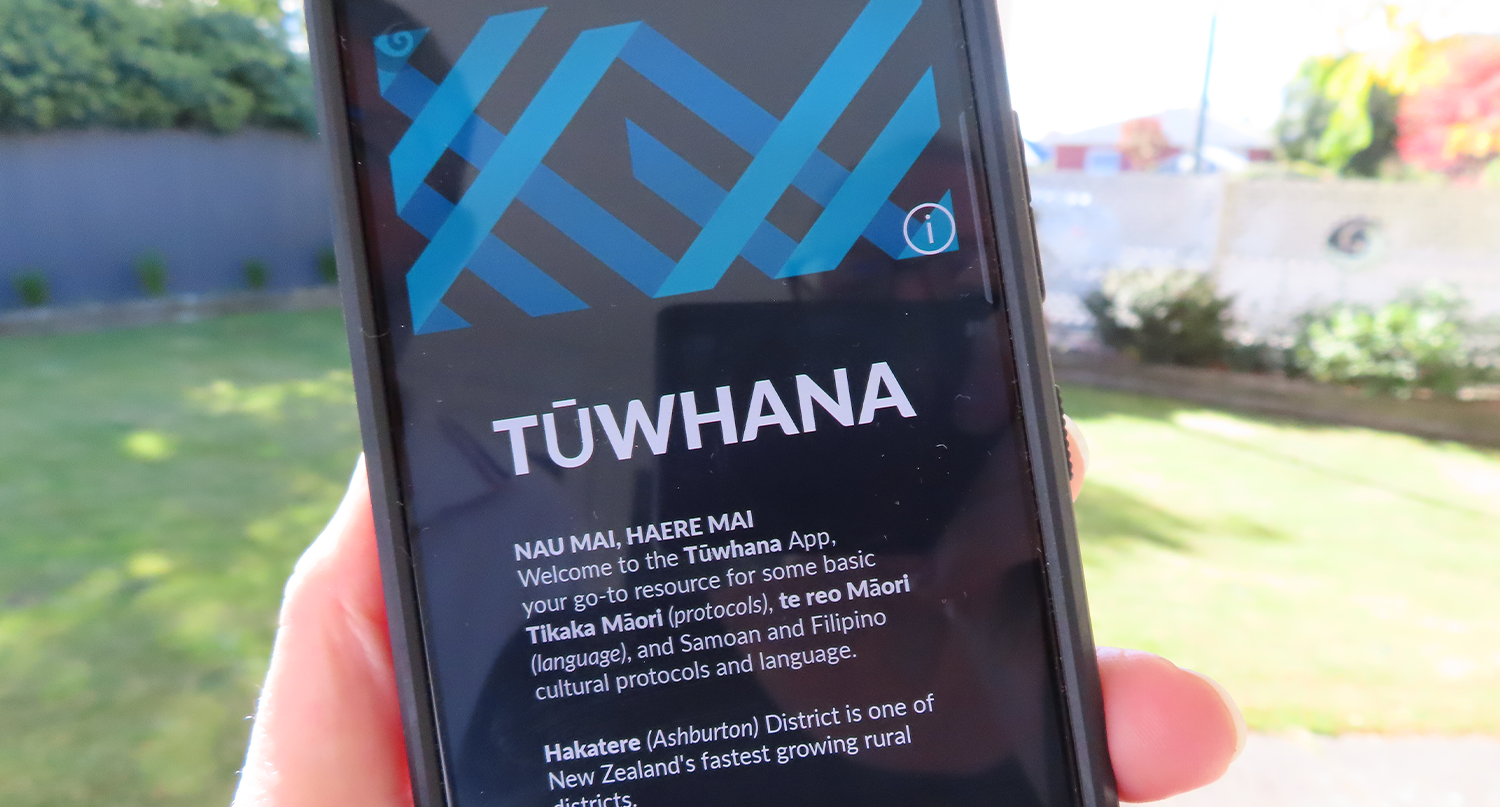 Share this article
A te reo Māori app developed for Ashburton District Council staff is to be shared with the community, so others can learn more about local Māori language and protocols. The app also covers Tagalog (the primary language of the Philippines) and Samoan.
The Tūwhana app came about after Council piloted a te reo Māori course for staff in 2019 to improve cultural competency, and it has been a joint project between the Welcoming Communities, People and Capability, and Strategy and Policy teams.
People and Capability Group Manager Sarah Mosley said while the pilot course was great, participants still felt whakamā (shy) about their pronunciation of te reo Māori.
"So we looked at what other councils, Government departments and corporations such as Air New Zealand were doing, and came across app developers Kiwa.
"We liked that they could customise the content to our local Ashburton community by working closely with Te Rūnaka o Arowhenua, and members of the Filipino and Samoan communities."
The app uses three different learning styles, touch, sight and sound, and people can practise pronunciation on demand.
Mrs Mosley said the app was a great way to provide information to a wide cross-section of people throughout Council, especially those wanting to gain more confidence with basic greetings, vocabulary and customs.
"Then we realised the community could use it too, as it would be free to download."
The app was used by Keep Learning Mid Canterbury recently for 34 people taking part in an online te reo Māori course.
Tutor Kate White said the Tūwhana app was especially useful for course participants when they were looking at pepeha (introducing yourself) or mihi (greetings).
She said the online course, via Zoom, allowed people to participate live, or catch up with a recorded lesson if they were sick or had a work meeting at the time of the lesson.
"I teach te reo Māori at Ashburton Borough School and people are always asking me about adult te reo courses in Ashburton, so I knew there was a hunger for this type of learning."
She said the Tūwhana app helped people learn to pronounce Māori words correctly, and contributed to the success of the course.
The te reo Māori learners themselves said the course made them more confident about using and understanding Māori greetings, and found the learning environment fun, engaging and supportive.
Keep Learning Mid Canterbury is planning another course starting on 8 June. It will be run on five consecutive Wednesdays from 11am to 12pm and people can register at https://bit.ly/tereojune
Features of the Tūwhana app include waiata, how to prepare for a visit to a marae, and pronunciation tips; it uses the southern Kāi Tahu dialect of te reo Māori, recognisable by the use of the distinct "k" sound instead of the more commonly heard "ng" sound.
You can download the app for both Android and Apple smartphones at:
https://apps.apple.com/us/app/t%C5%ABwhana/id1570058690
https://play.google.com/store/apps/details?id=com.kiwamedia.android.qbook.ASH0001
Follow Us