Volunteers play crucial roles at the Ashburton Art Gallery and Museum
Published: 2 December 2021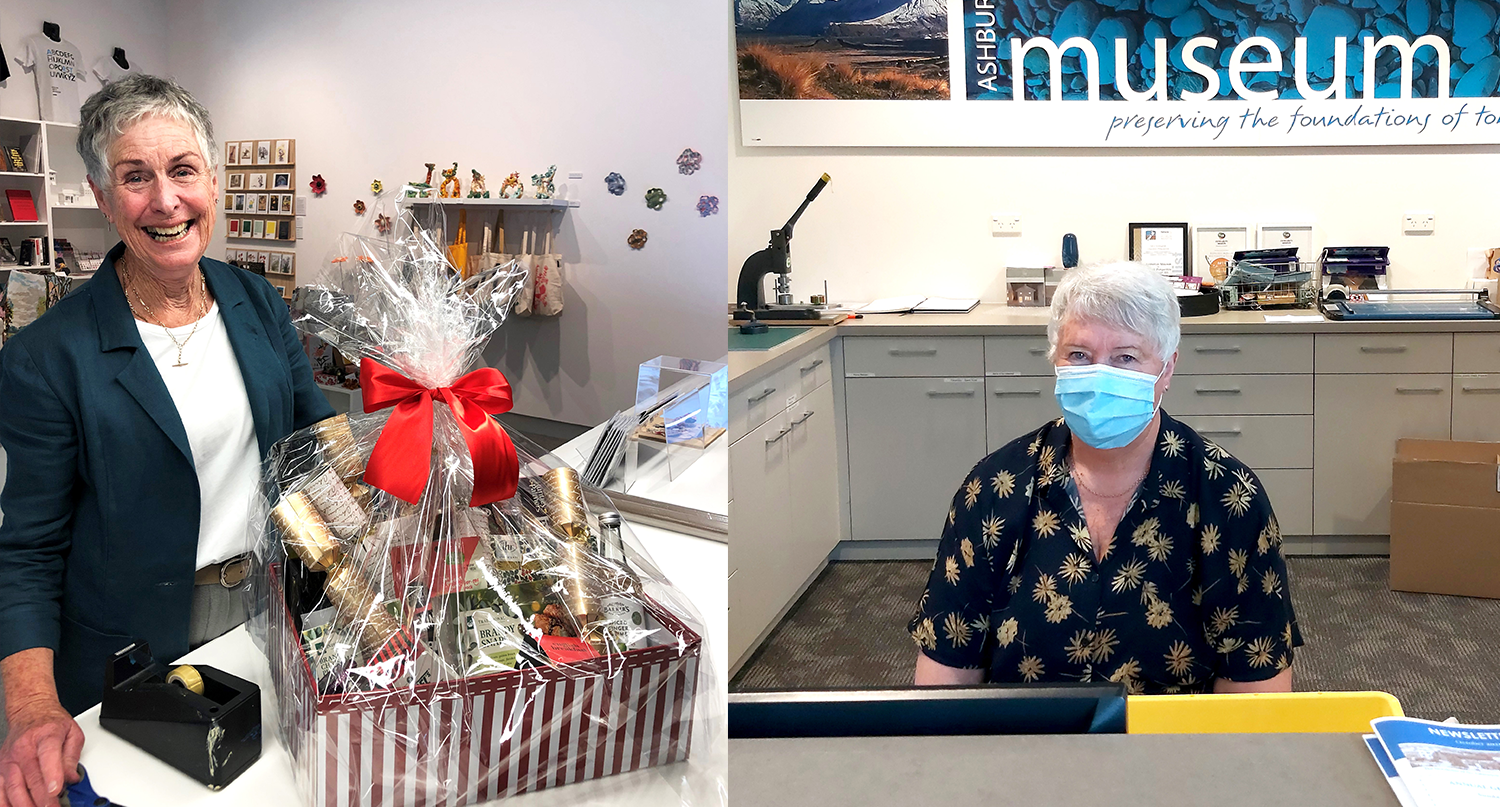 Share this article
Volunteers play an important role at the Ashburton Art Gallery and Museum and are often the first people that visitors encounter when they step through the doors.
They also help behind the scenes on exhibitions and collections and are much-loved for giving their time, skills and energy.
Linda Petrie has volunteered at the art gallery for many years and has welcomed many visitors, as well as helped plaster, as and paint walls between exhibitions.
"It's a privilege to be a volunteer. We get to meet travellers and locals who are interested in art. There is always a conversation to be had about the present exhibition, other exhibitions they have enjoyed and where in New Zealand they are from or going to.
"We get to represent our town and district in a positive light."
Linda became a volunteer in the "old" gallery and was happy to continue when the gallery and museum moved to their new building on West Street in 2015.
"Being part of the behind the scenes activities was an eye-opener. I didn't realise how much work and time it took to prepare a new exhibition.
"The gallery team are so welcoming and appreciative of the small jobs we volunteers do. Being there as Front of House allows staff time to concentrate on their many other responsibilities."
Sue Wood has been a volunteer at the museum since 2019.
"A friend who also volunteers mentioned to me that the museum was looking for more interested people and once I retired I was keen to do more in the community. I thought the museum would be interesting."
"I enjoy the revolving exhibitions in the Murney Room, particularly because of the huge variety of displays and their relevance to our local population."
Volunteers are given a variety of tasks, depending on their interests and strengths. Sue welcomes visitors to the museum and ensures they realise there is no cost to their visit.
"Many visitors give complimentary comments after visiting and are sometimes surprised that a small town has such a great museum.
"During the school holidays particularly, it is great to see all the young ones participating so enthusiastically in our activities and their parents are very complimentary about what is on offer."
Community Services Group Manager Steve Fabish said all the facility's volunteers are very much valued and appreciated, for their knowledge and reliability.
"They are absolutely crucial to operations and many play an important role in enhancing the visitor experience.
"Our front of house volunteers come from a variety of backgrounds but are all knowledgeable, friendly and always up for a chat about Ashburton heritage, or our latest art exhibition. Our behind the scenes volunteers work just as hard and often play a major part in getting a new exhibition installed and open on time."
If you would like to volunteer at the Ashburton Art Gallery and Museum, please get in touch.
Follow Us