Submit your creative design to feature in street art
Published: 21 July 2021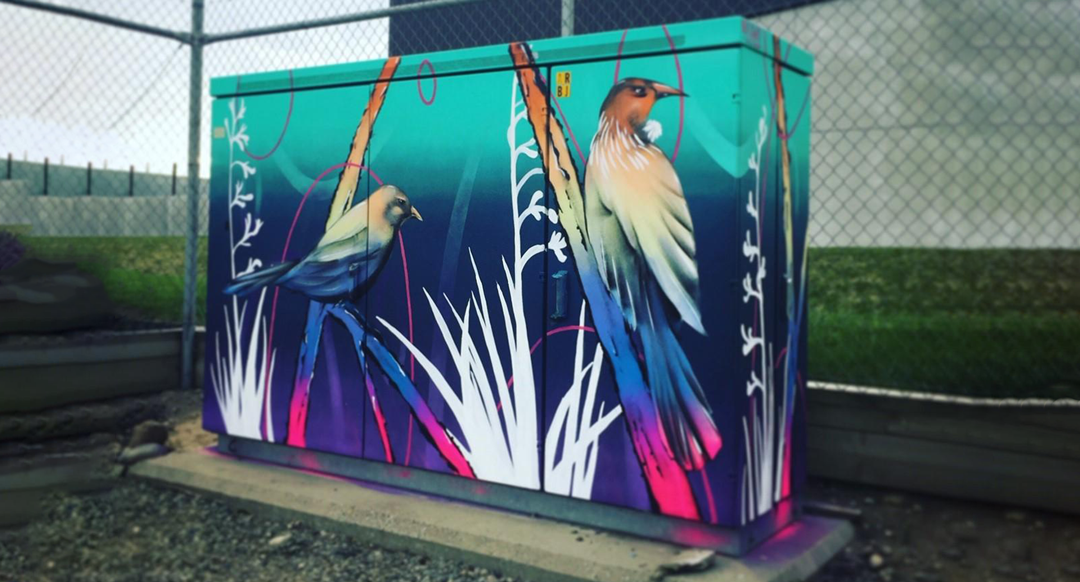 Ashburton's streets will receive some creative flair in the coming months as part of Chorus' cabinet art programme and local artists are being invited to submit their designs by 1 September 2021.
Chorus is working with the Ashburton District Council to deliver the programme, which will see five cabinets in the town painted. One of these is to be a Rainbow cabinet - the criteria for the Rainbow cabinet is that the design celebrates and supports diversity and inclusion in the community.
Chorus Community Relations Manager Jo Seddon said the programme has been very successful around the country at discouraging graffiti on some of its more frequently-tagged cabinets and Chorus was excited to be extending the programme even further in Ashburton.
"These cabinets become works of art in the street, often telling stories about the communities who live there and helping to foster community pride.
"Last year Council answered the call for a partnership and it was really great to work with them to bring art to the streets of Ashburton. We're looking forward to seeing more amazing designs this year."
Ashburton District Mayor Neil Brown said the initiative was a great opportunity for artists to showcase their talent and he is encouraging people to make a submission.
"This is a chance not only to share your work with Mid Canterbury, but also much further afield. The programme is a real win-win for our community. We get to have fantastic artworks in our streetscape that celebrate our people and stories, and also provide work and promotion of our local artists."
Design submissions are open until Wednesday 1 September. A Council panel will select the finalists before they are submitted to Chorus for final approval. The successful applicants will need to be able to complete the work by 30 March 2022.
All of the successful artworks will be included on the Chorus website and will be considered for the 2022 Chorus Cabinet Art calendar, copies of which are sent around the world.
Submit your design online on the Chorus website. Further information about the programme can also be found here on Cabinet Art Programme webpage.
View Chorus' existing cabinet artworks and murals on the Cabinet Art Gallery webpage.
Upcoming meetings
Road Closures