Pilot programme lowers groundwater nitrates
Published: 12 October 2021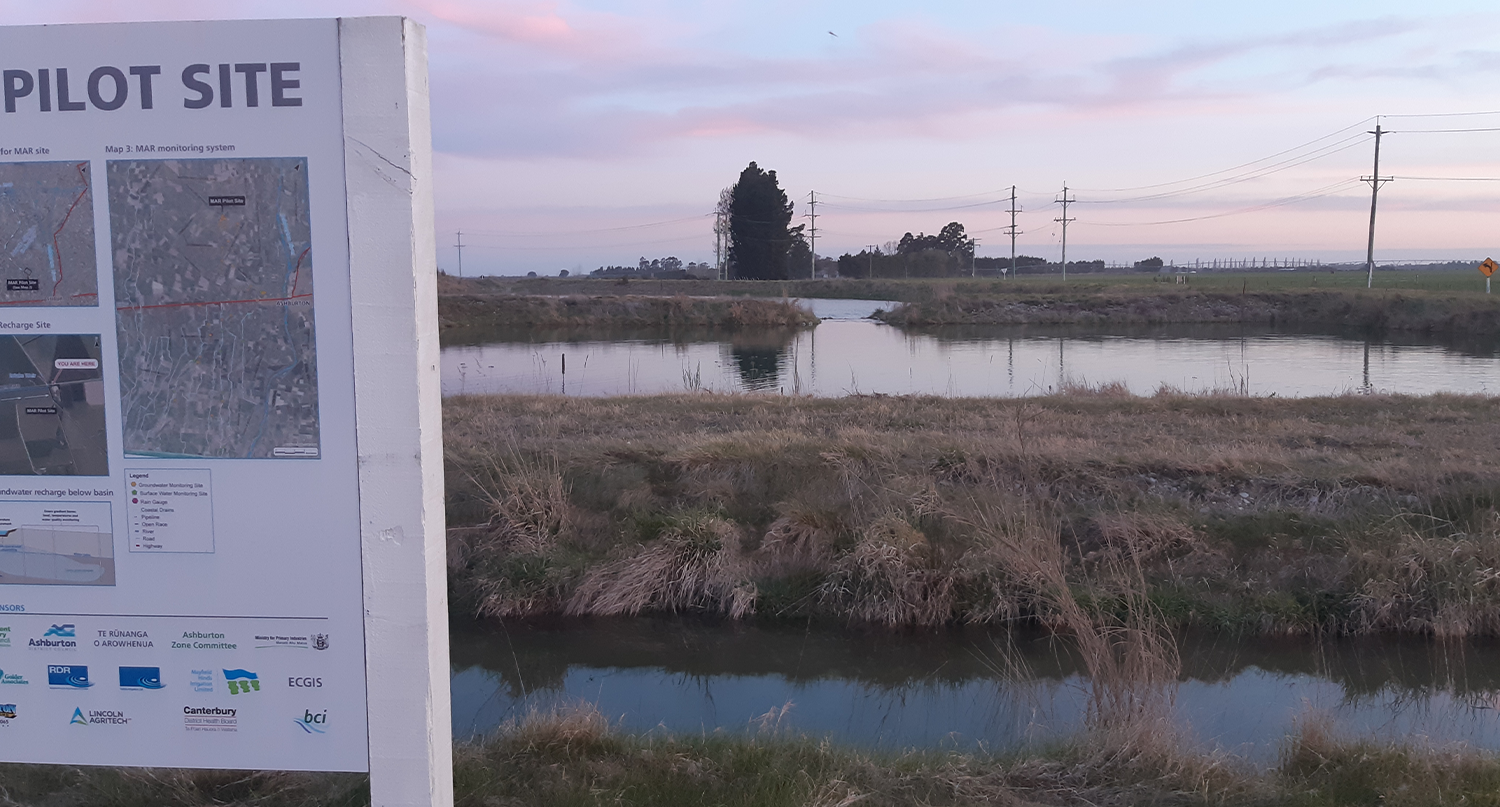 Share this article
Unused stockwater supplied by the Ashburton District Council is helping Mid Canterbury's ground-breaking managed aquifer recharge pilot programme lower groundwater nitrates in the Hekeao Hinds Plains area.
The pilot programme is in its fifth year and the unused water take, from the Rangitata Diversion Race, is fed into underground aquifers to boost water quality and quantity. At the same time, farmers are reducing nutrient leaching from their land-use activities and improving irrigation and water management.
In some cases, groundwater nitrate targets set for 2035 have already been achieved.
Council is among many agencies and organisations supporting the pilot, which is the collaborative work of farmers and scientists to reverse water quality damage from decades past. It began aiming to meet nitrate targets in Environment Canterbury's Plan Change 2 of 3.8mg/l for the lower Hinds River and 6.9mg/l in shallow groundwater by the year 2035.
Results of water quality testing in the lower Hinds for the first five months of 2021 showed it was near the 2035 target and follows the introduction of a near river recharge site on the river near Mayfield.
Councillors were told recently that the recharge site was also important for the township of Mayfield as it boosted water levels in the bore used for the community drinking water supply.
The managed aquifer programme is run by the Hekeao Hinds Water Enhancement Trust and started with one recharge site at Lagmhor in 2016. Groundwater nitrate levels were between 6 and 7mg/l before in the area before it started; they are now 1.2-2.2mg/l when the site is operational.
No recharge has happened at the site since May's floods because groundwater levels are high.
Ashburton Mayor Neil Brown said the programme was showing success in water quality measurements, and also in improved flows and fish life in the lower Hinds River.
"There's been a big improvement from five years ago and a lot of work has been done by the trust, farmers have given land, and Council has played a part by giving some unused stockwater."
Trust chairman Peter Lowe said a number of recharge sites had been developed and the overall results gave farmers, irrigation companies and authorities confidence they were on the right track to achieving freshwater targets.
"These Year 5 results are cold hard facts that show we are making a difference and making progress on considerably more sites than just Lagmhor.
"But there is still work to do. The trust is in the process of converting its pilot water-use consents to longer-term use and ongoing access to water will be important."
Follow Us