Ashburton prepares for NZ ShakeOut, our national quake drill
Published: 23 September 2021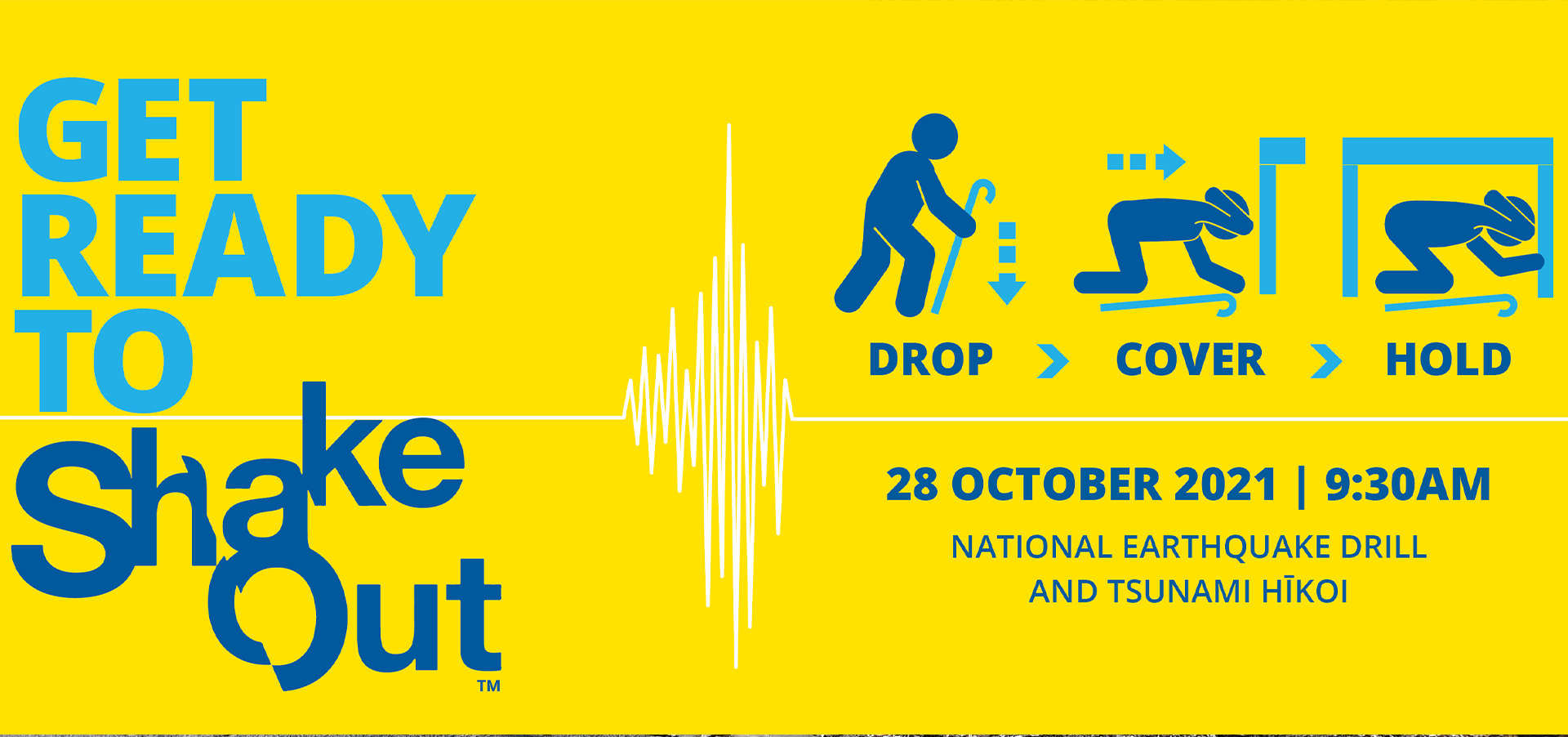 Share this article
Schools, businesses, families and individuals in the Ashburton District are among thousands around the country preparing for New Zealand ShakeOut 2021, our national earthquake drill on Thursday 28 October.
The drill, which will happen at 9.30am that day, is so people can practise Drop, Cover and Hold.
This is something you should ideally do twice a year and you can prepare in advance by identifying a safe space, like under a strong table or next to an interior wall, to take refuge in a quake. Being prepared and having supplies on hand for several days is also part of advance planning.
Those who live near the coast can take part in a tsunami hikoi (evacuation walk) at the same time on 28 October.
Drop, Cover and Hold stops you being knocked over, makes you a smaller target for flying and falling objects and protects your head, neck and vital organs.
If you are driving when an earthquake happens, pull over to a clear location, stop and stay there with your seatbelt fastened until the shaking stops. If you are in bed, stay there.
Earthquakes are in the top five emergency risks for Ashburton District and while we can't predict when earthquakes will occur, scientific research has shown that the South Island's alpine fault has a regular history of producing large earthquakes. Scientists say the next severe one is likely to occur within our lifetimes.
Ashburton District Council Strategy and Compliance Group Manager Jane Donaldson said Council had an important role in civil defence emergency management as part of a Canterbury and national response team.
"While Covid-19 is an event that has been drawing our attention lately, people need to be prepared for other sorts of emergencies. We have about 30 local businesses, schools, preschools and families or individuals signed up for the drill next month and we'd love to see others will take part too."
She said that while schools and pre-schools were an obvious way to education young people about earthquakes, workplaces were also a way to share important information. Resources are available in a range of formats and languages.
Sign up for the ShakeOut at getready.govt.nz/involved/shakeout
Follow Us