New rating valuations for Ashburton District
Published: 21 September 2021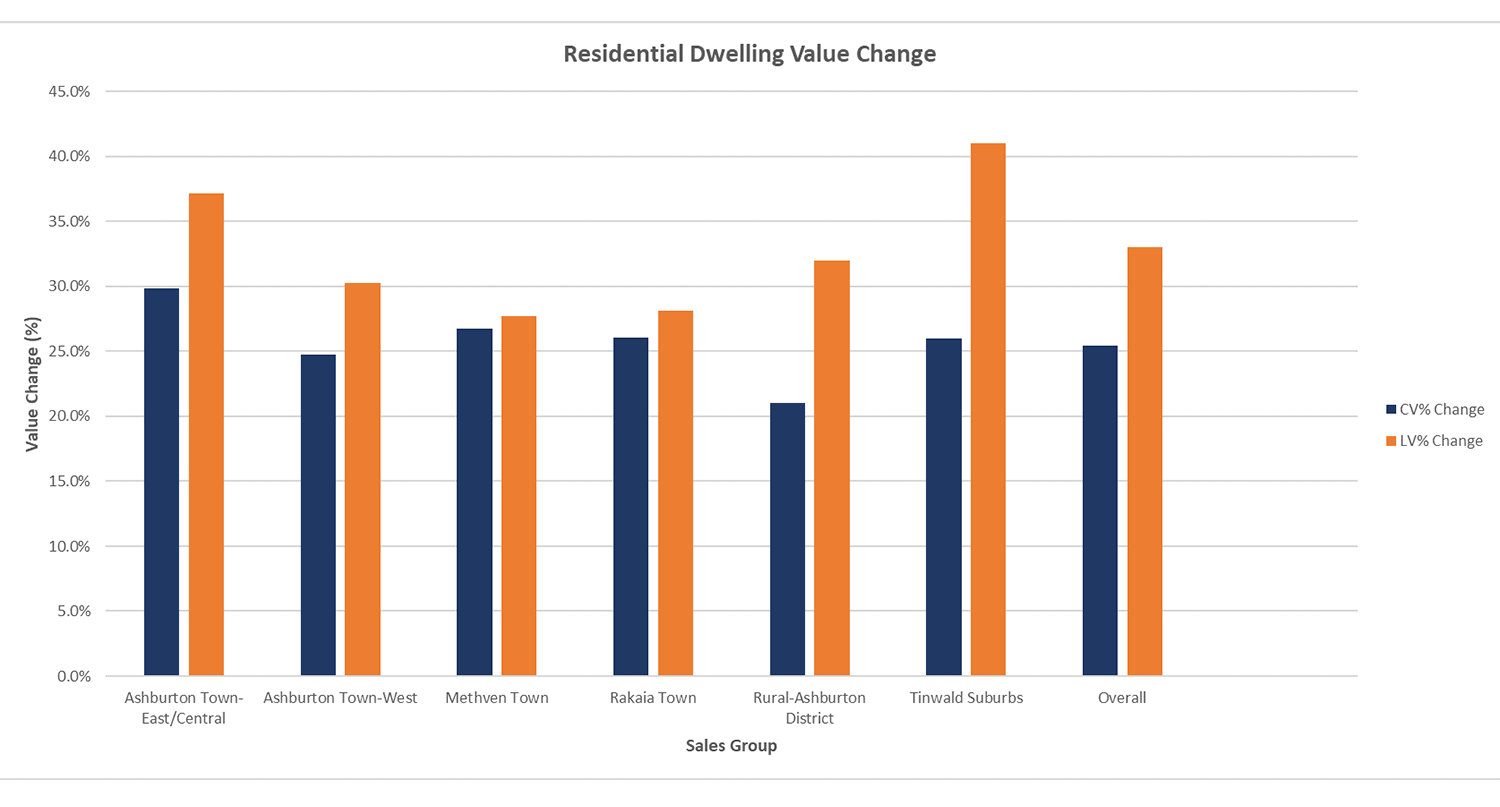 Share this article
Ashburton District property owners will soon receive a Notice of Rating Valuation in the post with an updated rating value for their property.
The new rating valuations have been prepared for 15,764 properties on behalf of the Ashburton District Council by Quotable Value (QV). They show the total rateable value for the district is now $20,494,086,450 with the land value of those properties now valued at $13,742,687,650.
Rating valuations are usually carried out on all New Zealand properties every three years to help local councils set rates for the following three-year period. They reflect the likely selling price of a property at the effective revaluation date, which was 1 July 2021, and do not include chattels.
The value of residential housing within the Ashburton District has increased by an average of 25.5% since 2018 with the average house value now sitting at $486,000, while the corresponding average land value increased by 33% to an average of $200,500.
QV area manager Kris Rodgers said the demand for residential housing had been buoyant across the region, with most townships in the district seeing increases of between 21-30% overall.
"We have seen significant value lifts across the entire residential market since our last rating revaluation back in 2018 with values still rising strongly.
"Lower value properties have seen the most competition from buyers, resulting in the greatest value increases. Demand from buyers coming from outside the region has also helped fuel the local residential property market."
Meanwhile, commercial property values have increased by 12% and property values in the industrial sector have increased by 13% since the district's last rating valuation in 2018. Commercial and industrial land values have also increased by 4.4% and 8.3% respectively.
"While there has been demand from buyers for good quality properties with favourable leases in place, this has been offset to some degree by online competition for retailers and the start of a post lockdown trend for more people to work from home," Mr Rodgers said.
"We have seen steady value increases for industrial properties and a limited supply of industrial land within the region has seen a boost in land values"
Since 2018, the average capital value of an improved lifestyle property has increased by 16% to $790,000, while the corresponding land value for a lifestyle property increased by 20.3% to $417,500.
"Lifestyle properties typically align in value with high-end residential properties and this segment of the market has been strong. A smaller market and less demand has meant there has not been quite the same increase in the land values as seen in the residential market," Mr Rodgers added.
He said there had been good activity and value growth for dairy, arable and pastoral properties over the past 8-10 months.
"Uncertainties around environmental issues and availability of capital that had restrained this market in the 18-24 months previous have abated somewhat with lending policy loosened and farmers learning to live and adapt to the environmental restrictions imposed upon them."
Value levels are still just below that of 2018 on most dairy and arable farms with values for those sectors having decreased 4% on average. Pastoral properties on average have seen a 2% increase from 2021 value levels, with the majority of growth experienced in the foot hills and high country.
Mr Rodgers said it was helpful to remember the effective rating revaluation date of 1 July 2021 had passed and any changes in the market since then will not be included in the new rating valuations.
This means in many cases a sale price achieved in the market today may be different to the new rating valuation set as at 1 July 2021 and that rating valuations are not designed to be used as market valuations for raising finance with banks or as insurance valuations.
The updated rating valuations are independently audited by the Office of the Valuer General and need to meet rigorous quality standards before the new rating valuations are certified.
New rating values will be posted to property owners after 29 September 2021. If owners do not agree with their rating valuation, they have a right to object through the objection process before 4 November 2021.
View the new valuation rolls here.
Follow Us