Ashburton District well placed, but not immune to economic impacts - CEO Breakfast
Published: 30 July 2020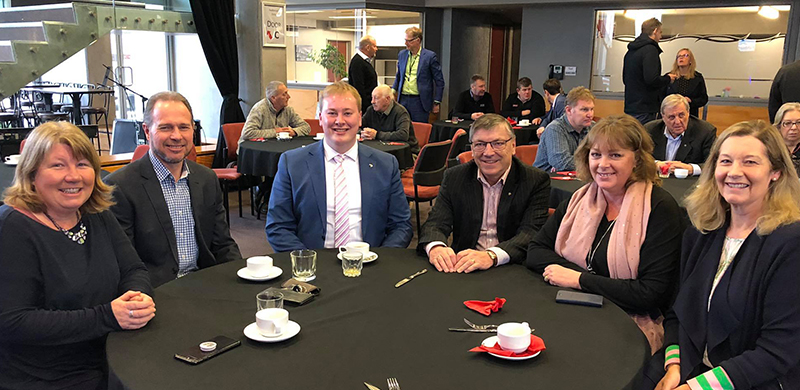 He's a familiar face on our TV screens when the country needs the latest on the economic outlook, and last week (23 July) Infometrics Senior Economist Brad Olsen was in Ashburton to share his insights with local business owners and managers at the district's CEO Breakfast.​
Pictured: (left to right) Ashburton District Deputy Mayor Liz McMillan, ADC Chief Executive Hamish Riach, Infometrics Senior Economist Brad Olsen, ADC Economic Development Manager Bevan Rickerby, Andrea Lee of Fowler Homes and ​​Jo Taylor of Advance Ashburton.​
"Anything compared to how things were in lockdown is good, but it'll take about three-and-a-half years until we are back to pre-COVID conditions," Brad warned.
Although there was a lot of "sugar money" from the Government to soften the impact of the lockdowns and invest in infrastructure projects right around the country, that would not stop national unemployment hitting above 8 per cent by the end of the year.
In Mid Canterbury, there has been a 55 per cent increase in the number of people accessing the COVID-19 relief payment, equating to around 250 more people on job support in the community, he explained.
Compared with other parts of the country, this was a lower number, but did demonstrate the very real impact COVID was having on the community. And although others may still have a job, the amount of money in their back pocket is a lot lower.
"The question we keep hearing has been, 'is this a rural or an urban divide? Who will come out better?' But actually, the question should be, 'do you have a strong tourism sector or do you have a strong agri sector?'.​"
Mid Canterbury's strong primary sector, which accounts for almost a quarter of all jobs in the district provides good resilience​​ for the area, when compared to the national outlook.
Global trade has been softer, but primary sector exports have continued to perform ok and although many countries are still in lockdown (which affects demand) people still need food.
"It's going to be tough in that global market, but at the same time, money will still flow because New Zealand needs to feed the world and the world still needs to eat," Brad added.​
Upcoming meetings
Road Closures