Ashburton District becomes accredited Established Welcoming Community
Published: 8 July 2020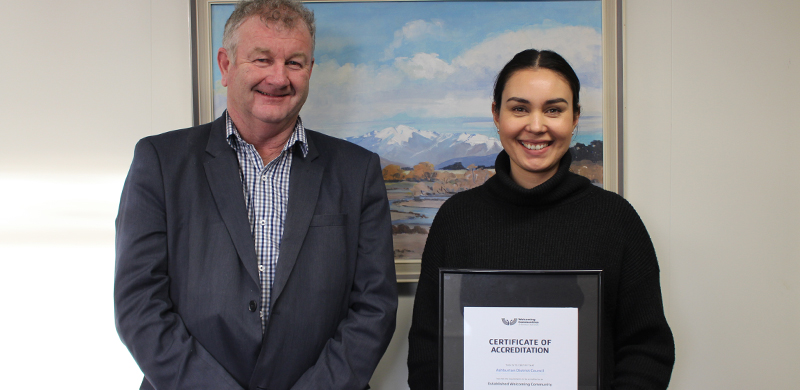 The Ashburton District's commitment to helping newcomers feel more accepted and celebrated in the community has been recognised with an accreditation from Immigration New Zealand.
The Council and community have become one of only seven places in the country to be recognised as an Established Welcoming Community, the second stage of a four-level accreditation model.
The Established Welcoming Community status recognises the Ashburton District as having a Welcoming Plan in place, that partners with the community to promote and implement the programme and where there are strong governing, advisory, project management and monitoring arrangements in place.​
Pictured: Ashburton District Mayor Neil Brown and Council Welcoming Communities Advisor Janice McKay with the Certificate of Accreditation from Immigration New Zealand.
Accreditation provides funding and support opportunities for the Council to continue its Welcoming Communities work.
Tauranga, Western Bay of Plenty, Palmerston North, Gore, Invercargill and Southland have also received the accreditation.
Ashburton District Mayor Neil Brown says becoming an Established Welcoming Community is a tremendous achievement and a testimony to the great work happening all around the community to make the district an even more welcoming place to live.
"There has been a lot of support from across the district to help those who are new to our community feel truly accepted here, whether that be in their new school, workplace, neighbourhood or club.
"Employers, community groups and industry leaders have been working closely with the Council to implement the activities in our Welcoming Plan, and it's very encouraging to see everyone's efforts recognised in this way."
The Council became stage one accredited in December last year. This level of accreditation recognised that the Council values newcomers, is committed to building welcoming and inclusive communities and has taken active steps to create an environment where all residents can thrive and belong.
Information on the Ashburton District's Welcoming Communities programme is available at wccanterbury.com​.
Share this article