Methven township and Methven-Springfield on extended boil water notice due to weekend rain impact on intakes
Published: 20 July 2021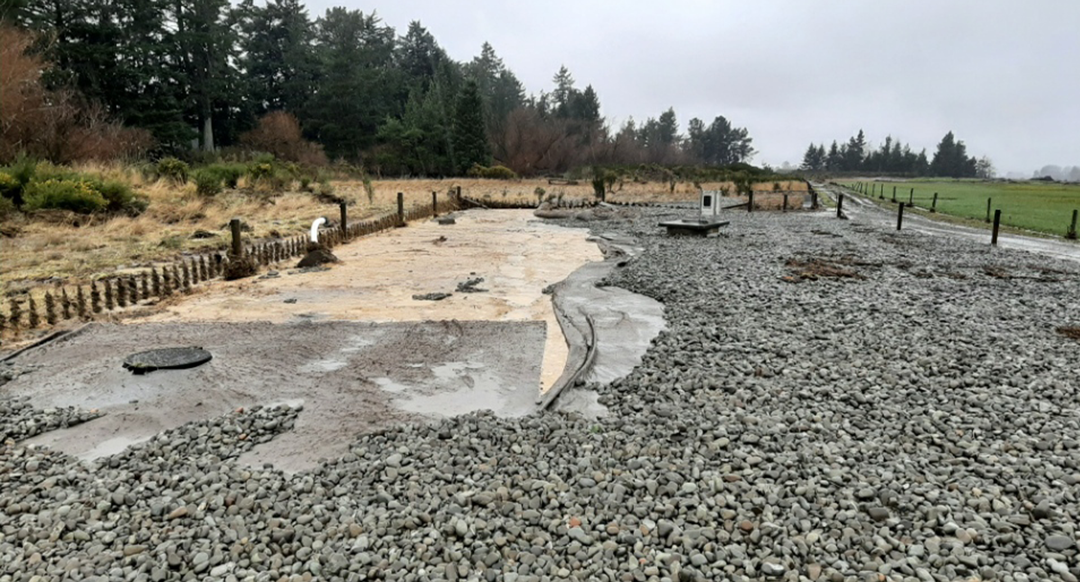 Residents connected to the Methven and Methven-Springfield water schemes can expect boil water notices to last at least another seven days as sediment-laden flood water continues to infiltrate intake galleries.
Both schemes take and treat shallow groundwater from the north branch of the Ashburton River but turbidity levels following the weekend's rain remain a concern.
Ashburton District Council Infrastructure Services Group Manager Neil McCann said 125mm of rain was recorded on Mt Hutt between Thursday and Saturday had resulted in sediment-laden water overwhelming the intake galleries.
"The impact of this water at the weekend was similar to the May flood event. We have to wait for the turbidity to settle down so the treatment plant can function as normal."
Floodwaters that affected the Methven township and Methven-Springfield intake galleries resulted from a breakout on Pudding Hill Stream and the Ashburton river at the weekend and is a repeat of what happened in the May floods. As well as affecting the turbidity of shallow groundwater, the floodwaters deposited a layer of silt on the Methven gallery, blew culverts, washed out geo fabric and stone used for filtering, and exposed the water pipes leading to the treatment plant.
Repair work is under way and Council officers are closely monitoring turbidity levels at the treatment plant; while it has been dropping, this morning's reading was at 2.5 NTU but this needs to drop to below 1.0 to be considered safe. Water leaving the plant needs to be compliant for three consecutive days before the boil water notice is lifted.
Ashburton District Deputy Mayor Liz McMillan says Council recognises the growing concerns Methven residents have and alternative clean water sources are being provided.
"We realise that this situation is having a significant impact on people who rely on water from the two schemes; Council has arranged for other water sources to be in Methven for as long as needed," she said.
A 10,000-litre ACL tanker is parked near the Methven Medical Centre and residents can take their own containers to fill with clean, safe drinking water. The tanker is being topped up daily.
Two tanks have also been delivered to the town's two pre-schools and tanks will be delivered to Methven House later this evening, as well as to local schools by Monday when the new school term starts.
Residents connected to the two schemes are advised to boil water used for drinking or food preparation and hygiene purposes for at least one minute before consumption.
Residents are also encouraged to sign up for Council alerts by texting their postcode to '4196', to be notified when boil water notices are issued and lifted.
Share this article