Draft Alfresco Dining Policy
We are no longer accepting submissions on the Draft Use of Footpaths for Alfresco Dining Policy.
---
We're proposing to make a few changes to our Use of Footpaths for Alfresco Dining Policy and want to hear what you think.
This policy sets out conditions that need to be met when a business wishes to make use of an area of public footpath to allow patrons to dine, with or without alcohol.
We know that alfresco dining can help bring vibrancy to an area and we want to ensure these areas are properly managed for the safety and enjoyment of the community.
The draft policy aims to provide a pleasant environment for businesses and the community to enjoy outdoor dining spaces while ensuring the footpath can still be used safely by pedestrians and those parking nearby.
You can read a summary of the key changes below. However, for more information, please read the consultation document which also includes the full draft policy.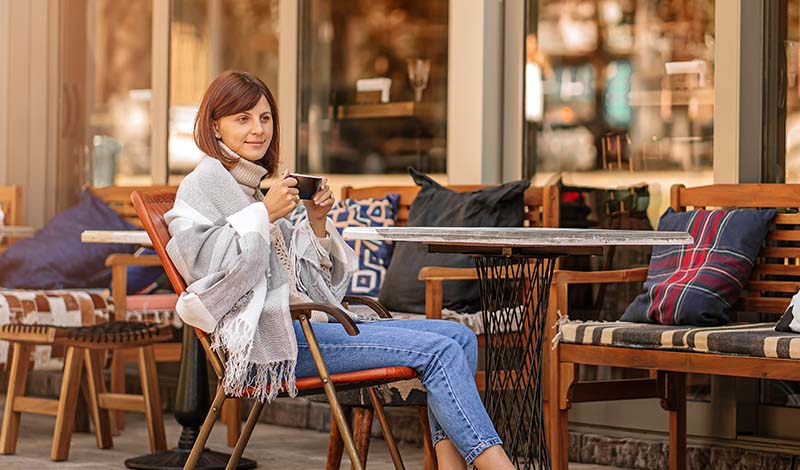 The changes we are proposing to the policy include:
Introducing a tiered policy, allowing for different requirements within different areas of the district. This means that businesses that do not currently hold a Licence to Occupy may be required to have one to use the footpath for outdoor dining.
Updates to the section about smoking in alfresco areas.
A new section outlining the ownership of structures and footpaths, and whose responsibility it is to remove a structure (if required).
New clauses reflecting the law regarding alcohol licences for alfresco dining areas.
A new clause clarifying that a building consent or exemption is required for certain works such as wind/safety barriers.
A new section outlining the right to request a review of a decision.
Updated wording regarding the use of car parks.
Increased clarity on which decisions are made by Council and which are made by council officers.
Updated requirements regarding a wind/safety barrier (including the length of the barrier).
A reference to fees and charges.
A new clause stating that Council may prescribe conditions to a Licence to Occupy.
For more detail on these proposed changes, please view the consultation document.
Have Your Say
Submissions on the draft Use of Footpaths for Alfresco Dining Policy have now closed.
Project Timeline
Community Consultation

23 September - 23 October 2022

We will seek feedback from the community.

Submission hearings and deliberations

23 November 2022

Submitters can present their views to Council in person at the hearing. Council will then consider and deliberate on submissions.

Policy Finalisation

23 November - 21 December 2022

Council will make the necessary changes to the draft policy as a result of deliberations.

Final Policy Adoption

21 December 2022

The final policy was adopted by Council at the meeting.
---
---
Submissions received
---