David Elliot Illustration Workshop for Adults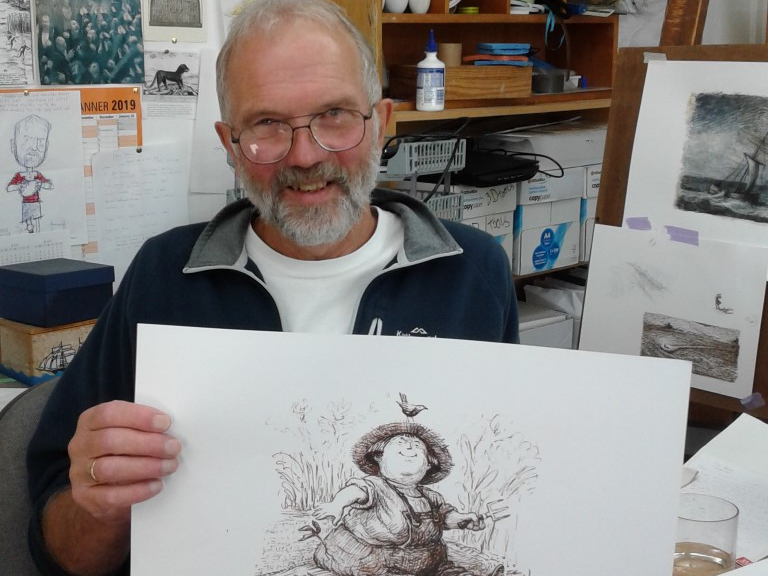 About the event
Join us for this special workshop with Award-winning writer-illustrator David Elliot.
Over many years working with images David Elliot has developed a range of techniques to access his imagination and keep himself motivated to create fresh new work. In this workshop he shares his experiences and hopes to help you think imaginatively about your approach to subject matter and materials.
About David:
Born in Ashburton, David Elliot is an internationally recognised children's writer and illustrator. He studied at the Wellington School of Design and Canterbury School of Fine Arts. After a varied career… designing pub interiors, catering in Antarctica and gatekeeping at Edinburgh Zoo… he trained as a teacher and taught art at secondary school and later painting and drawing to adults. He has an ongoing special relationship with the Ashburton Art Gallery. He has written and illustrated eleven picture-books, including Oink and Bumblebee Grumblebee, recently listed in the Sunday Star times as one of the Best Books of 2021. His 'magnum opus' Snark (after Lewis Carroll), won the Margaret Mahy Book of the Year, the Russell Clark Award for Illustration and an international White Raven Award.
David lives with his wife Gillian in Port Chalmers New Zealand, where the Southern coastline and its wildlife are a continual inspiration for his work.
Please note: proof of double vaccination will be mandatory upon entry.
BOOK NOW
Ashburton Art Gallery
25th Jan 2021
10:30am - 3:30pm
Ashburton Art Gallery
Admission:
$50 per person
BOOK NOW
Location