Ashburton District Global Ambassadors appointed
Published: 23 January 2020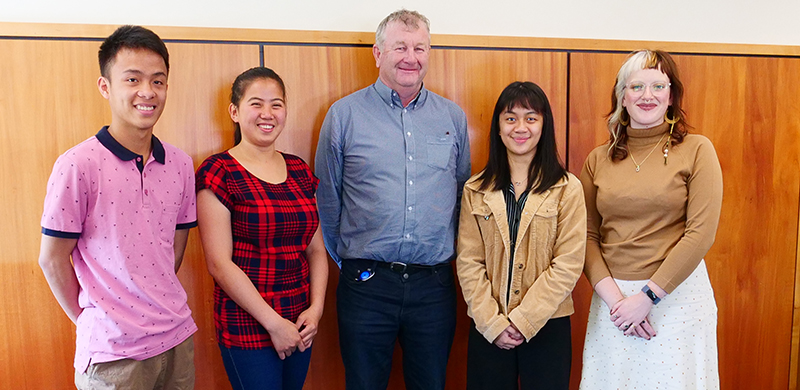 The Ashburton District Council has today announced the names of five young people who have been appointed to its new Global Ambassadors Programme.
Mary Bernarte, Jasaiah Claydon-Wade, Marc Juntilla, Jade Kruger and Fylgia Romero are the district's new Global Ambassadors who will be working with the Council to support Ashburton's international partnerships.
The group will have the chance to gain practical experience and make valuable connections to kick-start their future in international relations.
The ambassadors were officially welcomed into their role on Monday 13 January by Ashburton District Mayor, Neil Brown.​
​
"Congratulations to our new Global Ambassadors on their appointment. They have a very exciting year ahead of them improving international relationships and taking part in high-quality workshops and training. I'm sure they'll do very well representing our district to the international community here and beyond, and I wish them all the very best for a great year of professional development," Mayor Brown said.​
The Global Ambassadors' first assignment will be to assist the Welcoming Communities programme in its support of the upcoming Holi Festival of Colours, hosted by the Ashburton Indian Multicultural Charitable Trust on 15 February.
Another important project the ambassadors will get to be involved in is the upcoming national Sister Cities Conference happening in Ashburton in April this year. The theme for the conference is, 'Growing cultural diversity in the regions.'
Throughout the year, the ambassadors will attend workshops on topics such as Te Tiriti o Waitangi, te reo Māori, cultural competence, international relations and communications. They will also be connected with people in politics and will get to participate in planned activities for five hours a month.
At the end of the 12-month programme, each ambassador will receive a certificate of completion.
Mayor Brown continued that the Global Ambassadors will have the chance to make a significant contribution to the community.
"Economic development doesn't just depend on gross domestic product growth. Diversity and prosperity are equally important factors in the community's wellbeing and the Global Ambassadors Programme will help to share our district's story locally and around the world."
One Global Ambassador position is still available, and the Council is accepting applications of this role. It is open to young people aged 18-24.
Share this article