Welcoming mural to be chosen by public vote
Published: 21 April 2021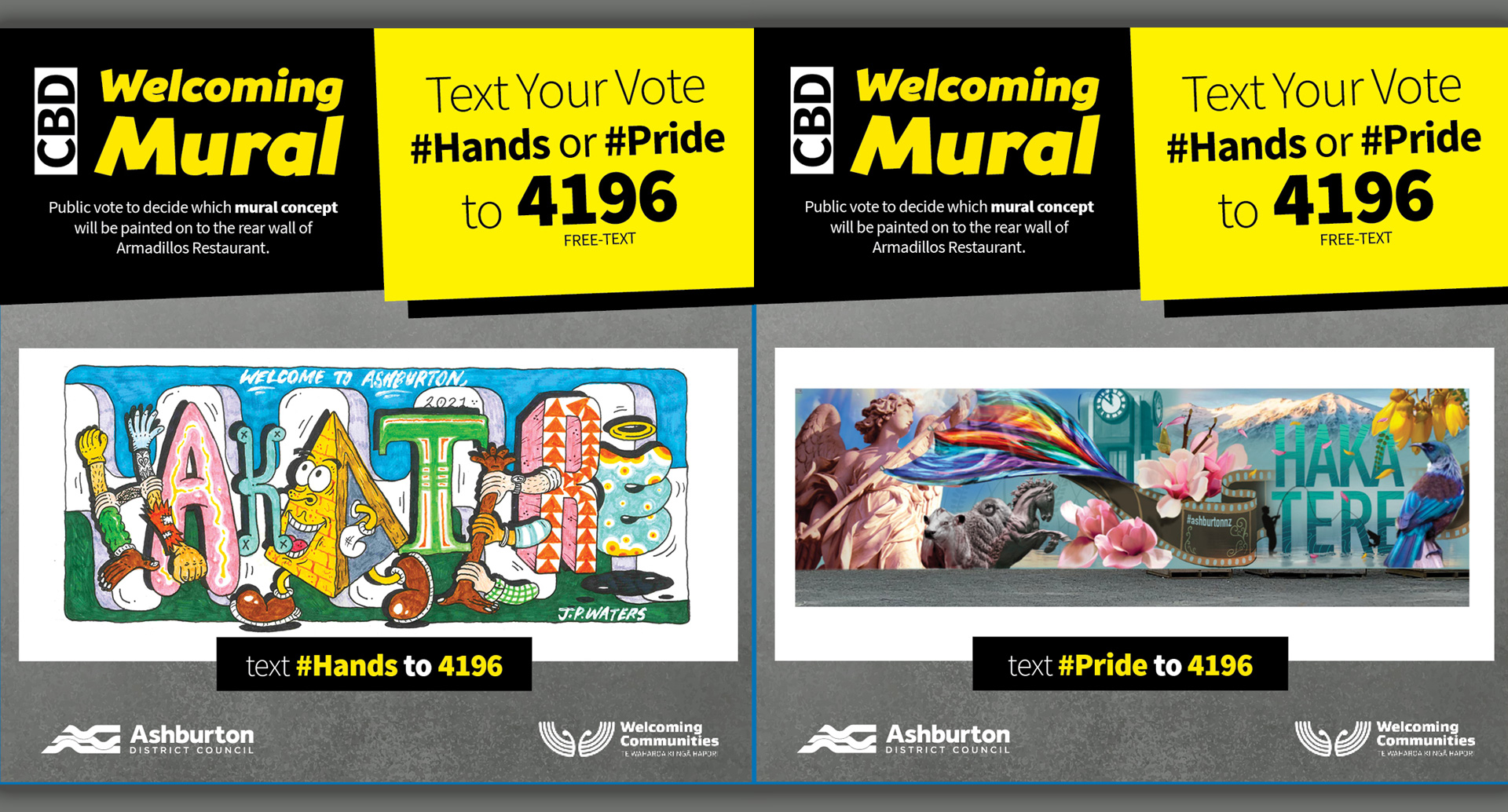 Two creative and colourful mural concepts are being put forward for a public vote to choose which concept is preferred for the rear wall of the Armadillo's restaurant located in Ashburton's CBD.

A member of the Welcoming Mural Panel, Deputy Mayor Liz McMillan, says the panel was pleased to have received great art concepts which the public can now make the final choice of the two finalists.
"We asked the public what welcoming looks like to them and they submitted a wide range of fantastic ideas. From the submissions, the Welcoming Mural panel identified common themes which then invited artists to submit their concepts for consideration," she said.
The two vibrant art concepts are designed by artists with local connections, based on ideas put forward by district residents earlier this year:
About the Artist: International artist Koryu Aoshima was encouraged by his Ashburton host family connections to enter. The rainbow flag represents diversity and unification while the film frame is designed for people to take part in the town's history, future and landscape.
About the Artist: Locally-born Jonny Waters has put forward a fun typography based design to spell out the name Hakatere. The design is based on bicultural understandings while also representing the diverse groups of Ashburton and the changing landscape, both natural and man-made.
District residents are being asked to vote on their preferred design, simply by texting either #Pride or #Hands to '4196'.
The art concept that receives the most public support by the end of the vote-by-text campaign will be painted on the wall situated on the corner of Cass and Burnett Streets. As part of Ashburton District Council's Welcoming Communities programme, the project is being funded by the Ministry of Business, Innovation and Employment (MBIE).
Voters can submit their vote by texting #Pride or #Hands by free text to '4196' by the voting deadline at 5pm on Friday, 30 April 2021.
---
More News